Lady Gaga Goes Wild in New "John Wayne" Music Video
Gaga goes a little faster.
---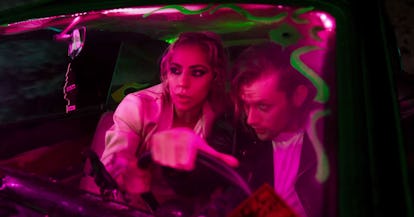 LadyGagaVEVO/Youtube
Still riding the wave of her lauded Super Bowl Halftime performance and the announcement of her world tour, Lady Gaga has dropped the third music video off her album Joanne for the track "John Wayne." Might as well maximize the spotlight while it's hot.
The singer exclusively released the video Wednesday on Apple Music, before it officially hit YouTube on Thursday. Jonas Åkerlund, a frequent Madonna collaborator who was also behind 2010's "Telephone," her collaboration with Beyoncé, directed, so it follows that the "John Wayne" video harkens back to the classic Lady Gaga-style of her Born This Way and The Fame days.
The action in "John Wayne" picks up right where the video for her ballad "Million Reasons" leaves off, just as the "Million Reasons" video begins where the video for "Perfect Illusion" ended.
Gaga, still clad in her now very recognizable pink cowboy hat and matching pantsuit puts down the guitar to ride horseback with a guy whom we can only assume is her "real wild" John Wayne. "Can I just like, hang off the back of your horse, and can you go a little faster?!" she all but shrieks in the intro to the song.
From there, Gaga essentially descends into madness. We see her doing crazy stunts while riding a motorcycle in a racy leather cut-out outfit. She gets involved in a Mad Max-style car chase. She shows off a slew of new moves with a crew of backup dancers. She can apparently shoot her insanely high platform boots like a gun. There's explosions, quite a few costume changes, substance-fueled debauchery (the line "Baby, let's get high" is part of the chorus, after all), and she may have even died at the end—who can really tell amid all the chaos? Buckle up, and watch the video for yourself below:
Lady Gaga's Most Naked, Bloody, and Gaga-esque Performances
Lady Gaga performs at Lollapalooza 2007

Jason Squires
Lady Gaga performs during the 2009 MTV Video Music Awards

Christopher Polk
Elton John and Lada Gaga perform onstage at the 52nd Annual GRAMMY Awards

Lester Cohen
Lady Gaga performs on ABC's "Good Morning America"

Andrew H. Walker
Lady Gaga and Brian May perform on stage at the The 28th Annual MTV Video Music Awards

Kevin Mazur
Lady Gaga performs onstage during The 53rd Annual GRAMMY Awards

Jeff Kravitz
Lady Gaga performs during the 2013 MTV Video Music Awards

Kevin Mazur
R. Kelly and Lady Gaga perform onstage during the 2013 American Music Awards

Lester Cohen
Lady Gaga performs on stage at the 87th Oscars

Robyn Beck
Lady Gaga performs onstage during "The ARTPOP Ball" tour

Kevin Mazur
Lady Gaga performs during Super Bowl 50

Ezra Shaw
Lady Gaga performs onstage during The 58th GRAMMY Awards

Kevin Winter
Lady Gaga performs on stage at the 88th Oscars

MARK RALSTON
Lady Gaga on the Bud Light x Lady Gaga Dive Bar Tour

Dimitrios Kambouris
Musical guest Lady Gaga performs on Saturday Night Live

NBC
Lady Gaga performs onstage during the 2016 American Music Awards

Kevin Winter
Lady Gaga performs and Kendall Jenner walks the runway during the 2016 Victoria's Secret Fashion Show

Taylor Hill
Watch W's Most Popular Videos: