Lady Gaga Wore Schiaparelli as She Sang the National Anthem at the 2021 Inauguration
Lady Gaga was true to her fashion sense, even in the most formal of settings.
---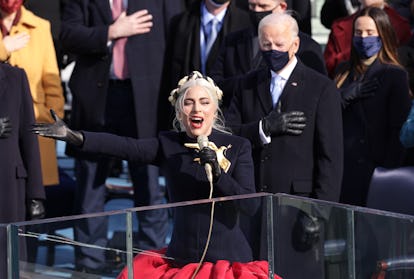 Photo by Alex Wong/Getty Images
Lady Gaga was tapped to sing the national anthem at Joe Biden's inauguration ceremony. And she delivered a rousing rendition of the "Star-Spangled Banner," a notoriously difficult song to sing, thanks to its octave jumps and many consonant syllables. But Gaga can dress us down with her voice and her style, so naturally everyone paid attention to what she was wearing.
Gaga wore Schiaparelli Haute Couture by Daniel Roseberry, the brand announced in a press release. Her outfit consists of a cashmere navy blue collarless jacket to keep her vocal cords free. The red silk skirt bloomed out from under her waist; Roseberry's commitment to this silhouette pays homage to Elsa Schiaparelli's original designs. The jacket was accented with a giant gold dove brooch holding an olive branch in keeping with Biden's theme of unity, along with matching ear jackets over her in-ear monitors; even her microphone and cable were gold.
Many attendants at the inauguration wore emerging and established American designers, including Gaga. Schiaparelli is a Parisian fashion house, but Roseberry is a proud Texan. "As an American living in Paris, this ensemble is a love letter to the country I miss so dearly and to a performer whose artistry I have so long admired," Roseberry said in a statement. "Maison Schiaparelli is honored to have this chance to dress the iconic Lady Gaga on this historic Inauguration Day. God Bless Lady Gaga and God Bless America."
Watch Gaga's performance below.