Lady Gaga Calls the Kavanaugh Hearing "Heartbreaking," and "One of the Most Upsetting Things I Have Ever Witnessed"
Lady Gaga was not afraid to get political during late-night talk show promotions of A Star Is Born.
---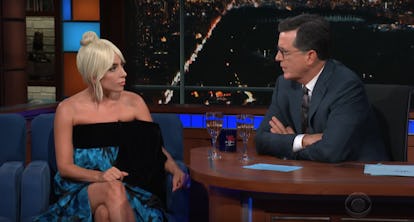 The Late Show with Stephen Colbert/YouTube
Lady Gaga has never been afraid to get political, not even during late-night talk show appearances to promote her upcoming projects.
On Thursday night, Gaga appeared on The Late Show With Stephen Colbert to promote A Star Is Born. In between sharing fun on-set anecdotes about working with Bradley Cooper, speaking French, and meeting Barbra Streisand (the lead of the 1976 version of the film), Gaga was asked by Colbert if she was okay to talk politics. She replied, "Bring it on."
Colbert then asked Gaga how she was dealing with the current political climate, and she immediately leaned in to discuss the Senate Judiciary Committee's hearing of Supreme Court nominee Brett Kavanaugh. "What I have seen on the news with this debate of Kavanaugh versus Dr. Ford, it's one of the most upsetting things I have ever witnessed," Gaga said. "It's heartbreaking, but I will tell you something because I am a sexual assault survivor," she continued, before explaining why she believes Dr. Christine Blasey Ford's testimony of being sexually assaulted at the hands of Judge Brett Kavanaugh as a teenager. "I know that this woman is smart, because she's a psychologist. She's no dummy," Gaga went on, adding her name to a growing list of celebrities who have expressed their belief of Dr. Ford. "If someone is assaulted or experiences trauma, there is science and scientific proof, it's biology, that people change. The brain changes. What it does is it takes the trauma, and it puts it in a box, and it files it away and shuts it so that we can survive the pain," she further explained to a late-night television studio that had gone completely silent.
"It can cause body pain, it can cause baseline elevations in anxiety, it can cause complete avoidance of wanting to even remember or think about what happened to you. But what I believe that I have seen is that when this woman saw that Judge Kavanaugh was going to be possibly put in the highest position of power in the judicial system of this country, she was triggered. And that box opened," Gaga continued. "When that box opened, she was brave enough to share it with the world to protect this country," she went on, just before the audience erupted with applause.
While Lady Gaga has never shied away from talking about difficult topics, in recent years she has been more outspoken than ever. She performed her song "Til It Happens to You" at the 2016 Oscars in honor of survivors of sexual assault, and partnered with Joe Biden to denounce sexual assault in a PSA that same year. Gaga also spoke candidly about her own sexual assault in her October 2018 Vogue cover interview, revealing why she decided to tell the world about her PTSD symptoms in 2016. "I came out and said that I have PTSD, because I don't want to hide—any more than I already have to," she said. "I always say that trauma has a brain. And it works its way into everything that you do."
Related: How Lady Gaga's Pop Songs in A Star Is Born Were Made