Lady Gaga Announces "Stupid Love," Drops #LG6 Clues
Is that Stefani Germanotta…or Gwen Stefani?
---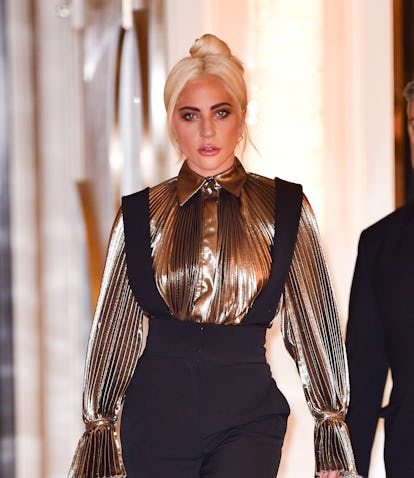 A few weeks back, Lady Gaga's "Stupid Love" blared over the speakers during the closing moments of Christian Cowan's NYFW show. Notable, considering that the track had not been officially released. Of course, an HQ leak of the song had spread across the Internet earlier in January, and impatient superfans quickly ate it up.
So it seems a mere formality that today Gaga herself announced that the single will be officially released this Friday, February 28. After sometimes stubbornly refusing to acknowledge it and at other times playfully trolling fans about it, Gaga has confirmed that the #LG6 era (for those blessed enough to not be familiar with pop-music superfan Twitter and message board slang, that's code for Lady Gaga's sixth studio album) is nigh.
Perhaps calling back to a scene in A Star is Born, Gaga officially announced the single via a billboard (though one promptly uploaded across her social media as well). While there's little mystery as to what the song will sound like, the announcement does offer new clues about what to expect from her first album cycle as an Oscar winner.
Just to be helpful, Gaga also uploaded the billboard imagery to her Twitter header as well.
Here are some takeaways that Little Monsters have discovered while combing through the imagery with eagle eyes.
Think Pink
Gaga has been sporting variations on pink hair intermittently since October.
From the looks of it, the hair hue will be a major part of, if not the entire album, then at least the single imagery. For fans of Return of Saturn–era Gwen Stefani or imperial phase Nicki Minaj, pink-haired pop star eras are usually fun, for what it's worth.
Chromatica May Be the Album's Title
The word "Chromatica" appears twice on the billboard, leading fans to theorize that the word may be the actual title for #LG6.
It's a fitting name for a pop star like Gaga. "Chromatic" has dual meanings, referring to both the chromatic music scale and to color. No word on what the synth-pop band Chromatics thinks about the matter, however.
The Aesthetic Seems Very Y2K
If Lady Gaga is attempting to "save pop music" (and the leak of "Stupid Love" proves it's pure pop), then it only makes sense she's hearkening back to pop's last truly unimpeachable age, the late 1990s and early '00s. While recalling the past graphic design preferences of Grimes and Brooke Candy, the billboard looks like it could easily be at home posted on the Y2K Aesthetic Institute Tumblr. It makes us want to play Space Channel 5 and flip through a stack of magazine with David LaChapelle–photographed music-magazine covers while wearing Candie's sneakers and chugging a high fructose corn syrup–infused energy soda.