So Lady Gaga Wore Madonna's Face on Her Versace Leotard
What does this mean for their supposed icy relations?
---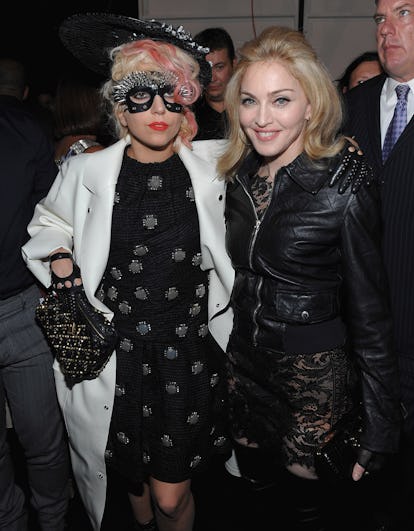 Dimitrios Kambouris
At this point its seems reductive to point out that relations between Lady Gaga and Madonna are complicated. It's not quite a full-on feud in the way some might imagine, but things remain icy. While Madonna once famously collaborated with Britney Spears, covered Kylie Minogue in concert, posed with Katy Perry on the cover of V, and used to have Gwen Stefani over for dinner parties, she's never quite fully embraced Gaga in the same way.
The last we heard of the situation came directly from Gaga herself, when she opened up about their relationship, or lack thereof, in her Netflix documentary Five Foot Two.
"I admired her always, and I still admire her, no matter what she might think of me," said Gaga in the candid clip. "But no matter how much respect I have for her as a performer, I could never wrap my head around the fact that she wouldn't look me in the eye and tell me that I was reductive or whatever."
"I just want Madonna to f—in' push me up against the wall and kiss me and tell me I'm a piece of s—," she concluded.
So, who knows where things stand now. Though, if there's one force in the entire world that may be able to negotiate a peace treaty between Gaga and Madge, it may be Donatella Versace. The fashion designer has remained close friends with each of the Italian-American blondes, and both stars have done their stint as face of the brand (Madonna has appeared in three Versace campaigns over the decades, while Versace is the only high fashion campaign Gaga has ever chosen to front).
So it seems that it was in honor of Donatella that Gaga ended up wearing Madonna's face on her outfit. Last night, the singer performed in Milan, and, of course, not only was Versace on hand but she provided a custom leotard for the occasion as well. If may not be immediately apparent, if you look closely you'll spot the face of none other than Madonna.
Those Vogue covers in the fabric are very much based on real life Vogue covers, and one of them (the one with the purple background and green face) just happens to be the May 1989 cover of American Vogue, which, incidentally, was Madonna's first time ever covering the magazine.
The jumpsuit appears to be custom, but the general motif made an appearance in Versace's recent Spring 2018 show, which was a tribute to Gianni Versace. Indeed, the Vogue cover print itself made it debut back in Versace's famous 1991 Pop Art show.
So, the print really isn't about Madonna, and, yet, it's still Gaga wearing Madonna on her rib.
Oh, in case you're wondering, Donatella enjoyed the show. She called it "one of the most beautiful performances I ever witnessed" on Instagram.
Related: Madonna's Dermatologist Tells All About the Pop Star's Skincare Line MDNA
Lady Gaga's Style Evolution, From a Meat Dress to Custom Versace
A brunette Gaga performing at Lollapalooza, in a homemade disco bra.That DIY aesthetic was only a small taste of what was to come.

Getty Images
One of the earliest incarnations of the Lady Gaga persona: snood, sunglasses, David Bowie makeup, and platinum blonde hair.

Getty Images
Lady Gaga and her "hair bow" debut on Good Day New York in 2008. Most of her costumes at this time where largely handmade.

Getty Images
Lady Gaga at a Fashion Week event in 2008, complete with towering shoulder pads and signature snood.

Getty Images
Gaga at a concert event in Germany, wearing one of her crystal stalagmite encrusted dresses.

Getty Images
Sporting rainbow colored locks, leopard briefs, and thigh-high boots at a Tokyo airport.

Getty Images
Gaga on the VMAs red carpet, wearing the first of one of many VMA looks that will go down in fashion history.

Getty Images
Meeting the Queen of England in Edwardian-themed red latex gown and crystal encrusted eye makeup.

Getty Images
At the 52nd Grammy Awards wearing custom Armani Prive and a matching, hand-held sculpture.

Getty Images
Leaving her concert at the O2 Arena in Germany at the height of "Bad Romance" fever.

Getty Images
Wearing her infamous meat dress at the MTV Video Music Awards.

Frederick M. Brown/Getty Images
At the VMAs in an Alexander McQueen look, wearing the infamous Armadillo platform heels.

Getty Images
Leaving dinner in Paris dedecked in diamonds and blush pink silk.

Getty Images
Accepting the Grammy award for best pop vocal album wearing archive Mugler at the beginning of her "Born This Way" era.

Getty Images
A chic, fully monochromatic look ("teal blonde" hair included) at Narita Airport in Tokyo.

Getty Images
At the CFDA awards sporting a teal bob. She won the Fashion Icon Award that evening.

Getty Images
A radiant brunette Lady Gaga at Harrods for the launch of her fragrance, Fame.

Getty Images
Lady Gaga wearing archive Versace with the designer in Milan.

Getty Images
Fairytale princess Gaga in an Alexander McQueen gown.

Getty Images
Channeling a rave-disco incarnation of Botticelli's Venus at the VMAs.

Getty Images
Lady "Godiva" Gaga arriving on the American Music Awards red carpet atop a mechanical horse and wearing Atelier Versace.

Getty Images
At an event in Japan in promotion of her album Artpop.

Getty Images
A street style moment in London complete with "Botticelli babe" waves and prismatic eyeglasses.

Getty Images
Sporting ultra long white-blond locks and a pink fur coat leaving her apartment in New York.

Getty Images
Wearing a lavender Atelier Versace gown at the 86th Annual Academy Awards.

Getty Images
Wearing a star-spangled, custom white Valentino gown with diamante eyebrows to match at the Kennedy Center Honors.

Getty Images
Entering the era of polished, elegant, and jazz Gaga for her collaboration album with Tony Bennett.

Getty Images
Wearing a custom, glittering Azzedine Alaia gown to the 87th Annual Academy Awards.

Getty Images
Lady Gaga at the Songwriter's Hall of Fame induction, channeling John Lennon by way of Alexander Wang.

Getty Images
Full Bowie-glam in a custom Marc Jacobs look for the 58th Grammy Awards, where Gaga performed a tribute to the late performer.

Getty Images