Lady Gaga's Op-Ed Calls for More Awareness and Resources for Mental Health Issues
About how we're failing those struggling.
---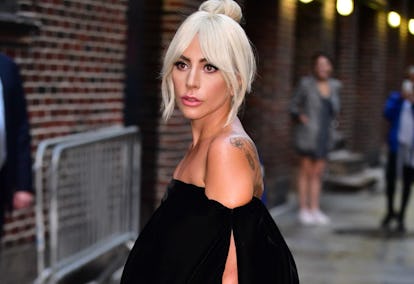 James Devaney/GC Images
Wednesday is World Mental Health Day, and to raise awareness for it, Lady Gaga is speaking out about how much more progress needs to be made in that arena. While she's done so on numerous occasions before when talking about her own personal experiences, Gaga is now wondering aloud why there aren't more resources for those dealing with mental health issues.
"Suicide is the most extreme and visible symptom of the larger mental health emergency we are so far failing to adequately address," she writes in an op-ed cowritten by Dr. Tedros Adhanom Ghebreyesus, the director-general of the World Health Organization for The Guardian. "Stigma, fear and lack of understanding compound the suffering of those affected and prevent the bold action that is so desperately needed and so long overdue."
Gaga and Dr. Ghebreyesus also questioned how mental health issues are so prevalent yet so unaddressed. "One in four of us will have to deal with a mental health condition at some point in our lives, and if we're not directly affected, someone we care for is likely to be," they write. "Yet despite the universality of the issue, we struggle to talk about it openly or to offer adequate care or resources. Within families and communities, we often remain silenced by a shame that tells us that those with mental illness are somehow less worthy or at fault for their own suffering.
The pair also shined a light on the lack of resources available for those dealing with mental health issues, writing, "In too many places support services are non-existent and those with treatable conditions are criminalized – literally chained up in inhumane conditions, cut off from the rest of society without hope… Mental health currently receives less than 1% of global aid. Domestic financing on prevention, promotion and treatment is similarly low. At present, every nation in the world is a 'developing' country when it comes to mental health… The two of us have taken different paths in life. But both of us have seen how political leadership, funding, innovation and individual acts of bravery and compassion can change the world. It is time to do the same for mental health."
Earlier this year, Lady Gaga opened up about her own mental health journey when accepting an award for her Born This Way Foundation, telling the crowd per Billboard, "I have struggled for a long time, both being public and not public about my mental health issues or my mental illness. But I truly believe that secrets keep you sick."