Lady Gaga is Just Going to Try and Single-Handedly​ Save Rock and Roll, Huh?
Lady Gaga is going full on Rock and Roll revival, with a wardrobe of Saint Laurent to match. Are we ready?
---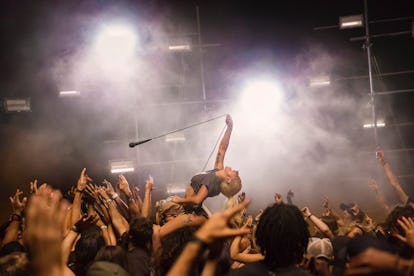 Perhaps it stands as a testament to how important Rock and Roll once was to American culture that we all seem to politely ignore the fact that the genre's relevance to breaking culture at the moment is pretty much dead. We talk more about rock stars who have recently passed away than we do rock stars with era-shifting debut albums (even in a time when a cultural "era" can last for a few months). There isn't a single rockstar under the age of 40 who has even a tenth of the caché of Kanye West (not even all 21 pilots combined come close).
And, yet, it seems like Lady Gaga is intent on setting out to single-handedly launch Rock and Roll (or at least her take on it) back into the monoculture. After an ArtPop that could mean anything, including disappointing sales numbers, and a classy retreat into the world of jazz as Tony Bennet's sidekick, Gaga signalled the beginning of her next album cycle today with the release of "Perfect Illusion."
Created alongside psyche rock maestro Kevin Parker, Mark Ronson and BloodPop, the single sounds more like an updated version of the female power rocking of '80s stars like Pat Benetar and Nancy Wilson of Heart. Madonna is certainly not sipping tea and muttering "reductive" to herself at the moment.
This isn't some one-off single experiment either. In an interview with BBC Radio 1 today she revealed a cavalcade of collaborators culled from all over the rock and roll sphere (indie and otherwise). Beck, Father John Misty, Florence Welch, and Josh Homme of Queens of the Stoneage will all be guesting on the album. There's also rumors afoot that Paul McCartney and Elton John may be popping up.
Even as she's been dressing down at the moment, Gaga is still the kind of artist who telegraphs her message with her clothes. And those clothes have also been decidedly rock and roll lately.
One can't stage dive in some over-the-top surrealist couture number afterall (at least in a way that would make the designer you borrowed it from happy), but one certainly can in t-shirts, cutoffs and combat boots. Of course, in Gaga's case the shirts are from rock-and-roll-obsessed Hedi Slimane's final collection for Saint Laurent and the boots are by Rag and Bone.
The preview material of the forthcoming video (reportedly shot in a desert) seems like we'll see Gaga cast as some sort of festival queen, and not as the surrealist sex kitten she usually portrays, one way or another, on screen.
It seems Lady Gaga is intent on making a statement and going against the grain.
"The thing I'm most excited about is it's totally non-derivative of anything on the radio right now — which I think is plaguing the radio a little bit, like this song sounds like that song," co-producer BloodPop told Rolling Stone. "'Perfect Illusion,' you can't look at any song in the last five or 10 years and be like, 'This sounds like that.' It's its own thing."
So Rock and Roll, which we haven't heard much of on the radio in the past ten or so year, is the perfect avenue.
The question is if anyone controlling the radio playlists are really ready for Gaga, the theater kid turned pop diva, to become the savior of Rock and Roll.