Lady Gaga, the Actress, Is Just as Outrageous as Lady Gaga, the Pop Star, When It Comes to Street Style
The singer and actress is making up for missing the Met Gala in lavish style, dressing as a walking Fall 2017 lookbook (with a little Pre-Fall for good measure).
---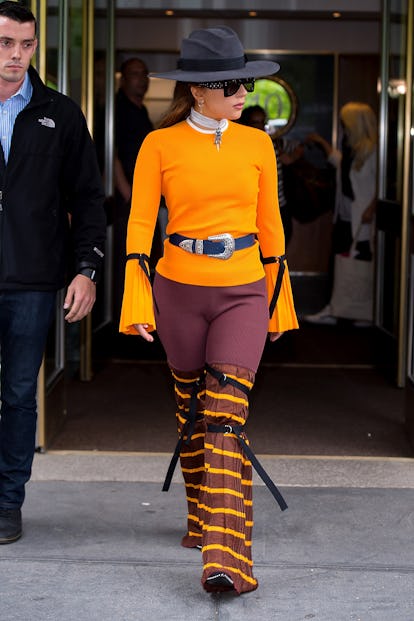 Gotham/Getty Images
The day after the Met Gala, Lady Gaga tweeted her compliments to Rihanna, declaring her the winner of the red carpet—and sharing a few photos of herself wearing Comme Des Garçons.
"Why didn't you go?" one fan tweeted in response. Gaga's excuse: She was in the midst of shooting a film—alluding to her upcoming reboot of A Star Is Born with Bradley Cooper—and her filming schedule simply would not permit. (Shooting began just last month, at Coachella.) A Star Is Born, the third remake of the 1937 David O. Selznick film of the same name, is the latest development in Lady Gaga's Renaissance over the past 12 months—last year, she won a Golden Globe for her performance in American Horror Story: Roanoke; then, she reemerged anew as a musician with Joanne, marking an entirely new roots-driven sound for the musician; and earlier this week, multiple outlets began reporting that, according to IMDb, Gaga would be credited under her real name, Stefani Germanotta, for her work in A Star Is Born. (Oh, and she also released her own set of emojis.)
But for all the career developments, Lady Gaga is still peak Gaga when it comes to street style. In A Star is Born, Gaga plays an aspiring performer (an actress in the original film, but perhaps a musician in the reboot?) trying to break into Hollywood—and thus, her costumes are far more understated than those of the fully fledged art-pop star that is Lady Gaga. For the past two days, the Lady Gaga alter-ego has been in top form—as if to remind us that, though she might take her birth name on screen, Lady Gaga is still a force to be reckoned with. It all started on Mother's Day, when she wore an aggressively marigold-colored 3.1 Phillip Lim look from the Pre-Fall 2017 collection. Later in the day, she changed into an only moderately more understated look—a rose-embroidered sweater by Marcelo Burlon, this time from the Fall 2017 collection, with a calf-length jumper folded down as a skirt and a Gucci bag with a tiger printed on the side. Normally, just one lavish look might suffice for a day—but having missed the Met Gala, perhaps Gaga is just making up for lost, Stetson-hatted time. (What might a Rei Kawakubo-endorsed cowboy hat have looked like?)
On May 15, Gaga wore Versus Versace. To be precise: She wore a bodycon Versus dress from the Pre-Fall 2017 collection, a sporty, streamlined long-sleeved and high-necked color-blocked piece that was not far off from her Super Bowl press conference look, also courtesy of Donatella.
On May 15, Gaga also wore Fall 2017 Gabriela Hearst—a leopard print trousers-and-overcoat pair with a coordinating print hat. (The only repeat element of her two-day spree was the tiger-embellished Gucci bag, a fitting addition to her big-cats-themed Gabriela Hearst look.) Meat dresses are bygone days, but animals are still fair game.
And, on May 15, she wore a ruffled jumpsuit by the Romanian streetwear brand Seen Users—while the rest of her ensembles were by small, but still name-brand, designers (even Versus doesn't quite have the clout of the main Versace line), this was a rare appearance by a relative unknown label. This one, too, dated Fall 2017.
It's not entirely clear how she made time for each of these looks, or how she managed to stash a change of clothes in her ubiquitous Gucci bag to get her through the day. (More likely, she returned to her hotel whenever the mood to change it up struck her.) Being Gaga is a full-time job; somehow, she's juggling her on-screen career as well.
So Lady Gaga might be headed for the big screen as Stefani Germanotta, but Lady Gaga is not going anywhere. (Especially not to the Met Gala.)
Meet the 11 types of chameleons you might encounter at Frieze New York: