Super Bowl 2017: Watch Lady Gaga's Halftime Show
Just in case you need to see it a second time.
---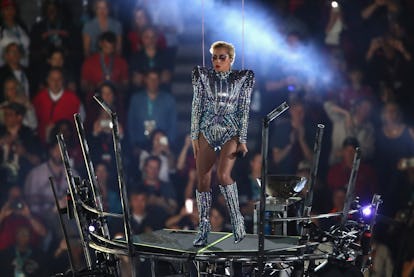 Patrick Smith/Getty Images
Even before the first note of Lady Gaga's Super Bowl halftime show, it was clear the audience was in for something different. The pop artist arrived in classic Gaga mode, leotard and rhinestones to boot—but the telling sign was the harness on her waist, equipped with wires to make her fly. After covering Woody Guthrie's "This Land Is Your Land"—the most political Gaga got during the halftime show—she made history with the most magical entrance ever, as she zipped into the stadium.
Lady Gaga's Super Bowl theatrics didn't stop there. During her eight-song set, which included "The Edge of Glory," "Poker Face," "Born This Way," "Just Dance," and, closer, "Bad Romance," she performed on a handful of different stages. She played the piano. She played the keytar. She talked on a telephone that looked like a shard of a broken mirror, lit up neon pink, during "Telephone." She also underwent an outfit change—discarding her dazzling bodysuit for a football jersey-like crop top—and a makeup change, removing the glittering eye patches she opened the show with.
Relive Gaga's performance over and over again below.
Lady Gaga's Most Naked, Bloody, and Gaga-esque Performances
Lady Gaga performs at Lollapalooza 2007

Jason Squires
Lady Gaga performs during the 2009 MTV Video Music Awards

Christopher Polk
Elton John and Lada Gaga perform onstage at the 52nd Annual GRAMMY Awards

Lester Cohen
Lady Gaga performs on ABC's "Good Morning America"

Andrew H. Walker
Lady Gaga and Brian May perform on stage at the The 28th Annual MTV Video Music Awards

Kevin Mazur
Lady Gaga performs onstage during The 53rd Annual GRAMMY Awards

Jeff Kravitz
Lady Gaga performs during the 2013 MTV Video Music Awards

Kevin Mazur
R. Kelly and Lady Gaga perform onstage during the 2013 American Music Awards

Lester Cohen
Lady Gaga performs on stage at the 87th Oscars

Robyn Beck
Lady Gaga performs onstage during "The ARTPOP Ball" tour

Kevin Mazur
Lady Gaga performs during Super Bowl 50

Ezra Shaw
Lady Gaga performs onstage during The 58th GRAMMY Awards

Kevin Winter
Lady Gaga performs on stage at the 88th Oscars

MARK RALSTON
Lady Gaga on the Bud Light x Lady Gaga Dive Bar Tour

Dimitrios Kambouris
Musical guest Lady Gaga performs on Saturday Night Live

NBC
Lady Gaga performs onstage during the 2016 American Music Awards

Kevin Winter
Lady Gaga performs and Kendall Jenner walks the runway during the 2016 Victoria's Secret Fashion Show

Taylor Hill
Watch W's Most Popular Videos: