Lady Gaga Has Been Wearing the Same Pillbox Hat for 24 Hours With Three Different Outfits at TIFF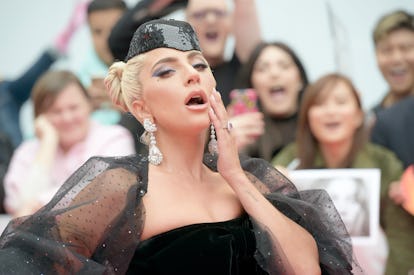 Kevin Winter/WireImage
Lady Gaga has only been on the press circuit for A Star Is Born for the past two weeks, but it seems a lot longer given how many outfits she's managed to squeeze in during that time. During the Venice Film Festival, she wore two different looks within hours, debuting Hedi Slimane's first bag for Celine. At the Toronto International Film Festival, Gaga one-upped that. In just 24 hours, she wore three different looks, all revolving around the same pillbox hat.
Yesterday, she wore a blue sequin slip dress with the shiny, pointed headpiece. She accessorized with a pair of drop diamond earrings and black pumps. That same evening kept the hat and her smoky-eyed makeup look, swapping out her dress for a black gown with a lace shawl that she used as a makeshift veil. Then, the following night, Gaga wore that same hat with a different set of drop-diamond earrings and black gown. Her second strapless dress had a thigh-high slit and ruffled pink trim, providing a delicate foil to the sculptural gown.
Not surprisingly, Gaga channeled old Hollywood glamour with both of her looks, a fitting theme for her promotional tour behind the classic story. A Star Is Born was first made in 1937 with Janet Gaynor and Fredric March. It was remade again in 1954 with Judy Garland and in 1976 with Barbra Streisand and Kris Kristofferson. Gaga is clearly playing into the film's storied history with the throwback pin-up looks she's been wearing over the past month.
Gaga recently opened up about her style, telling Vogue, that "For me, fashion and art and music have always been a form of armor. I just kept creating more and more fantasies to escape into, new skins to shed. And every time I shed a skin, it was like taking a shower when you're dirty: getting rid of, washing off, shedding all of the bad, and becoming something new… It was never about looking perfect—it was always about just being myself. And I think that's what it's always been about for my fans, too. It was a form of protection, and a secret—like a wink from afar." Consider her pillbox hat a form of added protection.