The Mix Master
Karl Lagerfeld's latest olfactory innovation reflects his secret talent for blending scents.
---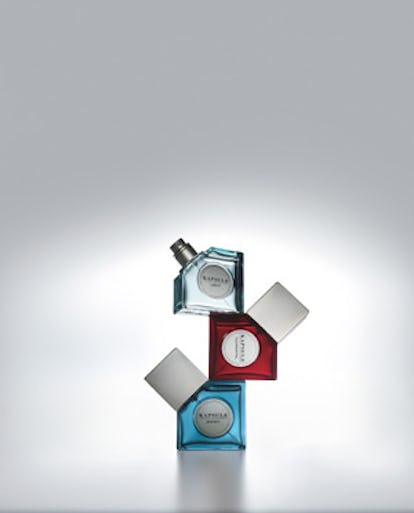 When it comes to fragrance, Karl Lagerfeld is hardly a dab-a-bit-here, dab-a-bit-there kind of guy. "I'm not a three-drop person," confides the designer, wearing his signature fingerless gloves and his hair pulled back to perfection.
Indeed, Lagerfeld goes through at least 365 bottles of Shu Uemura's Pleasure of Japanese Bath oil per year. "Normally, you're supposed to put one cup in the bathtub," he says, sitting in the leafy garden of Galerie Emmanuel Perrotin in Paris. "I put the whole bottle in every morning. It is the most divine product." His beauty ritual doesn't stop there: Lagerfeld spritzes a scent on various items of his clothing, not to mention his bedding. "What I put on my sheets is always different from what I wear on myself. It's like if I sleep with a person who uses another perfume."
Not surprisingly, Lagerfeld's latest fragrance is actually a trio of scents. Due out in November (it will be sold exclusively at Neiman Marcus until early spring), Kapsule comprises three elixirs derived from different fragrance families. There is Light, which includes bitter orange, jasmine, nutmeg, clove and musk. There is Floriental, with ivy leaf, violet and black tea. And there is Woody, with notes of cedar, moss and plum.
Interested in using style rather than gender as an organizing principle (Light, Floriental and Woody are unisex), Lagerfeld wanted to make fragrances that can be worn separately or layered. The designer, who was involved in every step of Kapsule's development process, has ample experience layering scents for his personal use: He loves his mix of Guerlain's Shalimar with Play, an eau de toilette from Comme des Garçons. He also experiments with other favorites. "I mixed Iris Nobile from Acqua di Parma with the Lagerfeld Classic I still had. I do strange mixes.
Because if you use one perfume all the time, you don't smell it anymore. Then you put on too much, and people faint."
Lagerfeld is well known for his phenomenal olfactory memory. An avid collector of out-of-production perfumes, the designer can easily tick off a slew of adored eaux, including L'Air de Colette room spray ("It puts me in the mood of shopping"), Tom Ford's Tobacco Vanille, Chanel No. 5 and No. 19, Bourjois's Soir de Paris, Jean Patou's Normandie, Caron's Nuit de Noël and, fittingly, another family of fragrances: Worth's Je Reviens, Vers Toi and Dans la Nuit.
Many of his scents are beloved because they embody the earthy smells that Lagerfeld—who feels "heavy, flowery things" are usually too funereal—finds most alluring. "I think vanilla is genius," he says. "And I like very spicy fragrances. Some people like the scent of chocolate; I like it, but I prefer the scent of bread, of pastry." But Lagerfeld, who maintains a pencil-thin frame after famously losing 90 pounds in 2001, adds: "I don't eat them. But I love their smell."