Artist Laila Gohar on Finding Silver Linings in a Strange Time
The artist known for her unique food installations opens up about organizing charitable outdoor dinners and the time she discovered she could break the rules.
Photographs by Max Hoell
---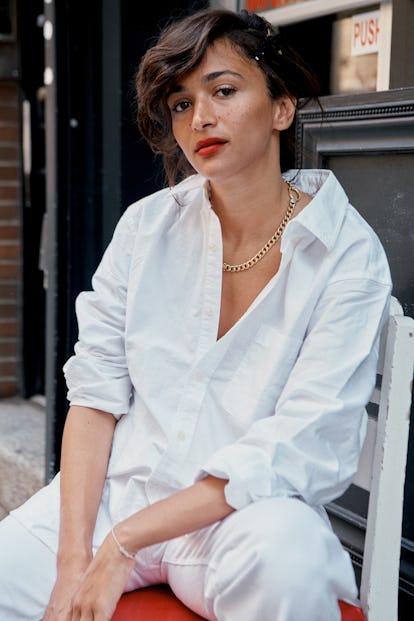 For our annual "The Originals" portfolio, we asked creatives—pioneers in the fields of art, design, fashion, comedy, activism and more—to share their insights on staying true to themselves and pushing the creative envelope in a chaotic year. Read all the Q+As from this year's group here.
You're known for creating unique food installations at art and fashion events, from towers of shrimp and roses at the Galeries Lafayette in Paris to pastel-hued pastry assemblages at Frieze New York. This past summer, you hosted a series of outdoor dinners in New York City to raise money for friends in Beirut after the explosion. How did it feel to bring people together again over a meal?
When the explosion happened in Beirut, it really hit close to home. I'm from Egypt and have spent time in Beirut and have many Lebanese friends. I was so heartbroken for days. And I was thinking, What can I do? The thing I know how to do is cook. Out of these extreme tragedies, the best that can happen is to figure out a way to create a kind of light out of something so dark. It was a group effort—a lot of friends stepped in, including two chefs who work together under the name Lez. They're Israeli—one of them is from a border town right across from Lebanon, the other is from Jerusalem. That is one of the many magical things about New York City, that people from opposite sides can come together in times of need.
Have you found other silver linings in the past seven months?
All of these systems that we had in place just burned to the ground. The dust is before our eyes. And I think what happens is like a forest fire. Everything burns down, and it's tragic, and it's so sad, but eventually there's going to be a regrowth, and something is going to sprout out of that ground. With the pandemic, this curtain got pulled down, where it's like, people assume that someone has a plan—whether it's the government or your boss, somebody who knows what's happening. Now there's this realization that, actually, nobody knows what's going on. Cat's out of the bag!
When did you first realize that you could break the rules?
I remember being really, really young and having this feeling of, I get this, I understand why people are behaving in this way and following this code of conduct and carrying themselves in a specific way. I could see the whole thing going on, but I wasn't a part of it in my own head. I was always just a little bit removed.
Was that difficult when you were younger, or did you always see that as an advantage?
It was superdifficult. On one hand, the greatest gift, because I think that it's a driving force. But until you figure out how to use it in a positive way, it can be really difficult and destructive and sort of a lonely place.
Whom do you consider original?
Louise Bourgeois. She was just so radical, and she did things so simply but so brilliantly.