Lana Del Rey Announces Her New Album Lust for Life
She released a video teaser on her Facebook page.
---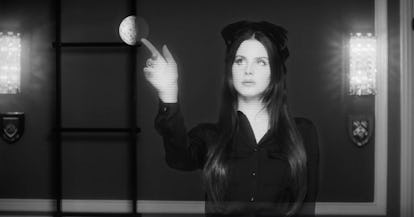 Lana Del Rey/Facebook
After much speculation, Lana Del Rey officially announced the imminent arrival of her next album, Lust for Life, via an appropriately witchy video on her Facebook page Wednesday.
We've already seen bits and pieces of Del Rey's latest work—her first single, "Love," dropped on Feb. 19, and just two days later, the ultra-romantic music video followed suit. The ethereal singer, known for her singular morose style, already signaled a difference between this album and her previous ones. "I made my first four albums for me, but this one is for my fans and about where I hope we are all headed," Del Rey said of Lust for Life in a statement last month.
This will be Del Rey's first release in two years, since her 2015 album, Honeymoon. Aside from a small spot on The Weeknd's latest album, and a recent call for fellow witches to join her in hexing President Donald Trump during the previous two waning crescent moons, she's been relatively quiet.
Although she did not reveal an exact drop date for the new album on her Facebook page, Del Rey did offer a black-and-white video teaser for the new work, in which the singer said fans can expect Lust for Life "very soon." She also talks about what it's like to be an artist in Hollywood—that "it requires some space," and yes, can be a challenge at times—while staying on brand with a celestial, Hitchcock-like vibe throughout.
Del Rey also used the opportunity to get political, concluding the video with a few wise words about society's current climate. "Even though these times can feel a little bit crazy, they're not so very different from what other generations have experienced at one time or another before," she says. "Amidst all the uncertainty, and as we transition out of one era into another one, there's no place I'd rather be than smack-dab in the middle of Hollyweird making this record for you."
4 Models Channel Modern-Day Sorceresses in Salem, Massachusetts: