Lana Del Rey's New Video Addresses Her Controversies Through Aesthetics
The vintage convertible has finally crashed.
---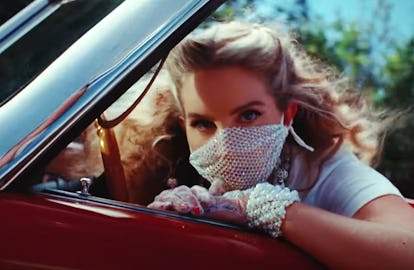 Image via Lana Del Rey's YouTube
Vintage automobiles have become such a key part of Lana Del Rey's particular aesthetic—so much so that they've appeared on four of her album covers, along with a handful of singles cover as well. So, perhaps it's telling that in her new video for "Chemtrails Over The Country Club," the lead single for the upcoming album of the same name, she sets fire to a cherry red vintage Mercedes convertible after losing control of the car. The video also seems to at least touch on, intentionally or not, some of Del Rey's recent controversies, but also ends in the singer-songwriter quite literally transforming. Is Lana trying to tell us something?
The clip starts with Del Rey in a bubble of the aesthetics she's cultivated over her career. There's the vintage car, the Instagram filter-like after effects, and the entire vibe of vintage Americana and old school money Del Rey holds so dear. At first, the video seems like it could have served for the visual of almost any Del Rey single ever.
Though, the appearance of the infamous crystal mesh facemask, which Del Rey was criticized for wearing around fans (she claimed a protective plastic layer had been sewn in), makes an appearance, marking the video as decidedly of the moment for both the world and Del Rey's public image.
Then, after the convertible crash, Lana reemerges. Previously decked out in ladylike fashion, she now finds herself cavorting with wolves in the forest while dressed in pearls, mesh, and lace fit for a showgirl. It's hard not to think back to the controversial Instagram caption Del Rey penned over the summer in which she tried to set herself apart from pop artists who emphasized sex appeal as empowerment.
"Now that Doja Cat, Ariana, Camila, Cardi B, Kehlani and Nicki Minaj and Beyonce have had number ones with songs about being sexy, wearing no clothes, f—ing, cheating, etc," Del Rey wrote, "can I please go back to singing about being embodied, feeling beautiful by being in love even if the relationship is not perfect, or dancing for money—or whatever I want—without being crucified or saying that I'm glamorizing abuse?"
Lana's aesthetics always seem something like a stream-of-consciousness daydream, but this particular daydream could be read as acknowledgment of recent controversies and the ongoing shift in her public image.
Ironically, there's also one controversy embedded in the video that Del Rey couldn't have seen coming. It only unraveled just a day before the premiere.
Yesterday, Del Rey unveiled the cover for the attendant new album. It features a photo of the singer with people she claims are some of her closest friends—but her Instagram picture led many to believe that she was using women of color as props. The women also appear in the video.
"My dearest friends have been from all over the place, so before you make comments again about a WOC/POC issue," Del Rey wrote. "I'm not the one storming the capital, I'm literally changing the world by putting my life and thoughts and love out there on the table 24 seven. Respect it."
Perhaps it's for the best the video addresses her recent controversies by way of aesthetics. Her Instagram comments only seem to start more issues.
Related: Lana Del Rey Is Reportedly Engaged to a Fellow Singer