Lana Del Rey's "Love" Music Video Is Literally Out of This World
In Lana Del Rey's latest music video, love goes intergalactic, literally. Two days after dropping her single "Love," Del Rey debuted the video for the track.
---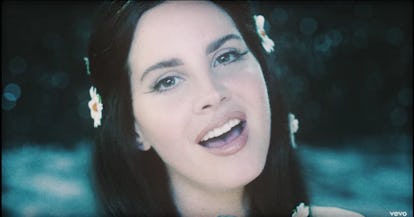 Courtesy of YouTube/LanaDelReyVEVO
In Lana Del Rey's latest music video, romance goes intergalactic—literally. Just two days after dropping her new single, Del Rey debuted the video for the track "Love," a dreamy journey through space.
In the video, which looks like it was filmed through every Instagram filter in existence, Lana looks like the retro bombshell we've come to know in a lace, long-sleeved white dress and daisies adorning her dark hair, and signature bold cat eye. And while the first half of the video features shots of the singer interspersed with couples who are apparently "young and in love," as the song goes, in her classic throwback style, Del Ray eventually leaps into the future, bringing her talents to the actual moon in the second half of the video. Her youthful audience of lovers is in tow, floating past the sun in a vintage car, spinning among the stars, and even going for a swim on some mysterious planet.
"Love" is the first we've heard from Del Rey since 2015's Honeymoon, other than her featured spot on The Weeknd's "Stargirl Interlude" last year, though it's just the beginning. Her fifth studio album is due to be released later this year.
"I made my first four albums for me, but this one is for my fans and about where I hope we are all headed," Del Rey said of her upcoming album in a statement.
Check out Lana's haunting sci-fi odyssey in the video for "Love" below:
Watch W's Most Popular Videos: