Lana Del Rey Has a Stevie Nicks Collaboration on Lust for Life
A musical match made in heaven.
---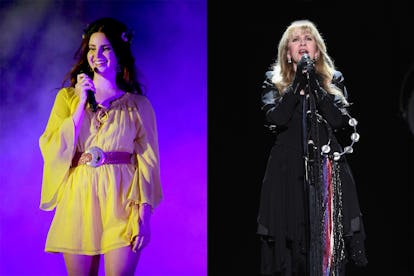 Getty Images
Lana Del Rey is currently readying her upcoming album Lust for Life, and she has tapped fellow musical free spirit Stevie Nicks to collaborate on one of the tracks, reports Pitchfork. In addition to the former Fleetwood Mac frontwoman, Del Rey has also announced that the album will include tracks from The Weeknd and Sean Ono Lennon. Additionally, it will feature her already-released single, "Love".
Of the album, she released a statement explaining, "I made my first four albums for me, but this one is for my fans and about where I hope we are all headed." Del Rey announced the album on Facebook at the end of March with a video that was both magical and all too real. In it, Del Rey's hologram appears, walking around a Hollywood home, while her voice provides the soundtrack, speaking of her process and hopes behind creating the new album. In the video she says, "Truthfully, when I'm in the middle of making a record, especially now when the world is in the middle of such a tumultuous period, I find I really need to take this space for myself, far away from real life, and consider what my contribution to the world should be." The album is "coming soon," but Del Rey has yet to provide any more info.
She is, however, dropping breadcrumbs for us to follow with each collaborator she announces. The latest might just be the best, however, as Del Rey, at 31 years old, is quite similar to Nicks at 68 in many ways. They may be of different generations, but both have embodied both the sound of Los Angeles and its alt-cultures. Nicks famously belonged to the Laurel Canyon music scene in California in the early 1970s, which valued authenticity—a subject deeply woven into Del Rey's own narrative. When speaking to Courtney Love for an interview with Dazed, Del Rey pointed toward Laurel Canyon as inspiration, saying that when she started, "I wanted a band so badly…I really wanted that camaraderie. I actually didn't even find that until a couple of years ago, I would say. I've been with my band for six years and they're great, but I wished I had people—I fantasized about Laurel Canyon."
There's also the fact that both have dabbled in witchy iconography. Del Rey recently announced she'd employ her own witchcraft to help in the resistahce against President Donald Trump. Nicks has also been followed by rumors she's dabbled in witchcraft dating back to her days in Fleetwood Mac (likely because the song "Rihannon" is about a mythical Welsh witch figure), and memorably sent up the rumors by appearing as an actual witch on American Horror Story: Coven.
In any event, the collaboration sounds like it could be absolutely magical.
Lana Del Rey's Style Evolution, From California Pop Star to Bewitching Songstress
Sporting her original blonde locks at concert in 2010, where she performed as Lizzy Grant.

Getty
Del Rey in a Prabal Gurung dress at the Q Awards in 2011 where she won the "Next Big Thing" award.

Getty
Leaving a hotel in Paris wearing a saffron colored dress and single white rose in her hair.

Getty
After a Cannes red carpet wearing jeans, loafers, and a Ferrari racing jacket.

Getty
Out and about in New York, wearing a simple white dress and nude pump.

Getty
At an event for fashion brand Mulberry, in a gown by the house.

Getty
Classic Hollywood siren in a dramatic black gown on the Cannes red carpet.

Getty
As the song goes, blue jeans, white shirt; at an event for her album "Born to Die."

Getty
At the Echo Awards wearing a gown by Versace.

Getty
On the Met Gala red carpet in a gown and cape by Altuzarra, sporting a vampy lip.

Getty
At the UCLA Institute Of The Environment And Sustainability Presents An Evening Of Envrionmental Excellence wearing a fur coat with jeans and converse.

Getty
At the EMA awards in an elegant navy dress made for her by a friend.

Getty
At the Cannes Film Festival premiere of Baz Luhrman's The Great Gatsby in a dramatic black and white gown.

Getty
Front row at the Versace Fall 2013 show wearing a full look by the house.

Getty
At an event for Nylon Magazine looking biker-girl chic

Getty
At an Academy Award party hosted by the Weinstein Company in all-white.

Getty
At the amfAR's 21st Cinema Against AIDS gala with Justin Bieber in a canary yellow ball gown.

Getty
At the 2014 British Fashion Awards in an emerald green dress and shawl.

Getty
Casual cool and glossy-haired at LAX airport in a navy cardigan.

Getty
In a floral-tiered frock on the red carpet for the Breakthrough Prize Ceremony.

Getty
Nautical-chic in a navy blazer and white trouser suit at the 5th Annual Sean Penn & Friends HELP HAITI HOME Gala.

Getty
Lana Del Rey attends 2016 Billboard Power 100 Celebration at Bouchon Beverly Hills in a white blouse and belted safari pants.

Getty
Del Rey at a 2016 pre-Grammy Gala wearing a stripped ruffle top and black satin skirt with a radical up-do.

Getty
In an elegant, all-over floral print caftan on the 2016 Brit Awards red carpet.

Getty
Every inch a 50's beauty queen in a shimmer gown at the 2016 Vanity Fair Oscar party.

Getty
Mermaid cool in a pleated turquoise gown on the red carpet for the Golden Globes.

Getty
Lana Del Ray attends the Gucci Bloom Fragrance Launch at MoMA PS.1 on May 2, 2017 in New York City.

Getty
Lana Del Rey performs during BBC Radio 1's Big Weekend at Burton Constable Hall, Burton Constable, Skirlaugh in Hull.

Getty
See What's Trending in W Video: