Listen to Lana Del Rey and The Weeknd's "Lust for Life"
The dream team is back at it.
---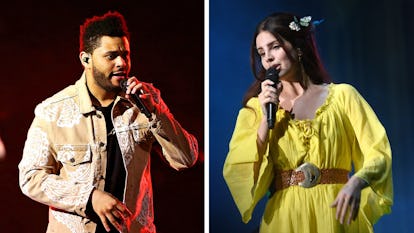 Composite. Getty Images
After building up anticipation with a cryptic tweet that simply said "X?O," Lana Del Rey and The Weeknd are rewarding fans for their patience.
Today, the throwback pop artist released yet another taste of her upcoming studio album Lust for Life, this time the title track featuring Abel Tesfaye—and it's worth the wait. Like their previous collaborations—The Weeknd's Beauty Behind the Madness cut "Prisoner" and Starboy standout "Stargirl Interlude"—Lust for Life offers further confirmation that the two crooners bring out the best in each other.
"I really felt like [The Weeknd] just added so much to it—it was the perfect track for him to join me on," Del Rey told BBC Radio 1, which premiered the track. With its airy percussion and soft harmonies, the track fits perfectly into her catalog of '60s-indebted, cinematic songs.
Earlier this week, Del Rey confirmed as much in a cover story with Dazed, telling interviewer Courtney Love that The Weeknd and radio mainstay producer Max Martin helped lend the song that quality. "[Martin] said that he felt really strongly that the best part was the verse and that he wanted to hear it more than once, so I should think about making it the chorus," she said. "[The Weeknd] came down and rewrote a little bit of it. But then I was feeling like it was missing a little bit of The Shangri-Las element, so I went back for a fourth time and layered it up with harmonies. Now I'm finally happy with it."
Fans should be, too. Soon, they'll be treated to even more songs with the same feel. Del Rey told BBC Radio 1 that "I think the first few things I'm going to put out are gonna have that bigger, richer sound, and then I'm going to dig into the more acoustic part of the record," referencing an upcoming track, "Yosemite."
Fittingly, the two artists, who have come to embody a new generation of pop deconstructionists coming out of Los Angeles, shared the track with a visual that finds the pair sitting on top of the Hollywood sign. Take a look and listen below.
See What's Tending in W Video: