Lana Del Rey, Witch, Will Use Her Dark Powers to Defeat Donald Trump at Midnight
Must be the season of the witch.
---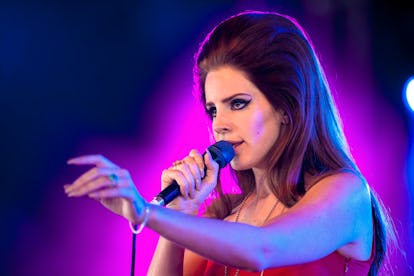 Neil Lupin/Getty Images
Witches: they're not just one of the key fashion inspirations lately percolating in the industry, they're also politically active. In case you're not tuned into the sorcery world, witches of the world are planning en masse to put a hex on President Donald Trump, and the spellbinding Lana Del Rey will be among them. Oh, and good news, witchy friends, there's room in her coven for you.
Calling on fellow spell-casters to join in, Del Rey, who appropriately just released a celestial-themed music video for her new single "Love," posted a photo of herself looking straight into your soul on Twitter, along with the time of Friday night's spell-fest and the dates of the upcoming waning crescent moons, during which the spell will be recast (unless the first one works its magic well enough to oust Trump from office first). "At the stroke of midnight Feb. 24, March 26, April 24, May 23," she wrote.
Even though this retro moon princess will use her witchcraft to take down a president, she can't do everything, so she recommends that those looking to join the witching hour use the magic of Google to find out about the necessary supplies. "Ingredients can b found online," per Mistress Del Rey.
Details of the event spread far and wide through witchcraft forums, with the ritual eventually being clearly outlined in full by paranormal writer Michael M. Hughes at Extra Newsfeed and garnering its own Facebook event (because even the witches are on Facebook). According to Hughes, the binding spell "seeks to restrain someone from doing harm…In other words, this is not the equivalent of magically punching a Nazi; rather, it is ripping the bullhorn from his hands, smashing his phone so he can't tweet, tying him up, and throwing him in a dark basement where he can't hurt anyone."
He also recommends really feeling the spell as you're reciting. We knew Del Rey's haunting voice wasn't just for musical entertainment.
Fall 2016, the Season of the Witch
Loewe bag; Marc Jacobs shoes.

Photographs by Inez and Vinoodh, Styled by Edward Enninful
Valentino jacket and gown; Stuart Weitzman boots.

Photographs by Inez and Vinoodh, Styled by Edward Enninful
Miu Miu coat and skirt. Heather Huey bonnet; Caroline Constas neck collar (both throughout).

Photographs by Inez and Vinoodh, Styled by Edward Enninful
From left: DKNY jacket; Morgenthal Frederics sunglasses. Prada cape; J.W. Anderson dress and corset; the Frye Company boots. Chanel dress and brooches. Gucci jacket, shirt, and skirt.

Photographs by Inez and Vinoodh, Styled by Edward Enninful
Clockwise, from left: Kenzo dress and top; the Frye Company boots. Junya Watanabe Comme des Garcons jacket, T-shirt, and leggings; Louis Vuitton boots. Philosophy di Lorenzo Serafini dress; Daang Goodman for Tripp NYC fishnet shirt; Mugler skirt. Prada dress, harness, and charm necklace; Oliver Peoples The Row sunglasses.

Photographs by Inez and Vinoodh, Styled by Edward Enninful
Louis Vuitton jacket, dress, and pants; Inez and Vinoodh ring (throughout) and earring. Beauty note: Banish the wattle with StriVectin TL Advanced Light Tightening Neck Cream.

Photographs by Inez and Vinoodh, Styled by Edward Enninful
Dsquared2 jacket and skirt.

Photographs by Inez and Vinoodh, Styled by Edward Enninful
Chanel dress; Wolford tights; the Frye Company boots.

Photographs by Inez and Vinoodh, Styled by Edward Enninful
Michael Kors Collection cardigan; Daang Goodman for Tripp NYC fishnet shirt (throughout); Rosamosario bra; Moncler Grenoble skirt; (right wrist) Robert Lee Morris bracelet; (rings, right hand, from left) Louis Vuitton, King Baby, Louis Vuitton; (left wrist) King Baby bracelet; (left hand) Jennifer Fisher ring; Alexander Wang boots. Agent Provocateur tights (throughout). Beauty note: Legs look enchanting, thanks to Guerlain Les DElices de Bain Perfumed Body Lotion. Pictured here and throughout: Patrick Dougherty's What the Birds Know, 2015 (a site-specific installation commissioned by the Peabody Essex Museum).

Photographs by Inez and Vinoodh, Styled by Edward Enninful
Versace coat; Etro dress; (necklaces, from top, throughout) stylist's own, Chrome Hearts, Stylist's own, Lauren Klassen, Chrome Hearts, Isabel Marant; Balenciaga boots. Beauty note: Give the evil eye with Covergirl the Super Sizer Fibers by LashBlast Mascara in Very Black.

Photographs by Inez and Vinoodh, Styled by Edward Enninful
Giorgio Armani cape and jumpsuit; (from top) Gigi Burris Millinery hat, Horisaki Design & Handel hat; Haider Ackermann boots.

Photographs by Inez and Vinoodh, Styled by Edward Enninful
Blumarine dress; Bottega Veneta bra top; I.D. Sarrieri briefs; Stuart Weitzman boots.

Photographs by Inez and Vinoodh, Styled by Edward Enninful
From left: Alberta Ferretti dress; Wolford tights; the Frye Company boots. Alexander Wang bra top, skirt, and boots; (bracelets, right wrist, from top) Robert Lee Morris, Isabel Marant, Chrome Hearts; (bracelets, left wrist, from top) Wendy Nichol, King Baby, Isabel Marant. Beauty note: Cast a different spell with Chanel Rouge Allure Velvet Lipstick in Demoniaque.

Photographs by Inez and Vinoodh, Styled by Edward Enninful
Balmain bodysuit; bag from Galaxy Army NavY, New York; Balenciaga boots.

Photographs by Inez and Vinoodh, Styled by Edward Enninful
Vetements shirt, jeans, and boots.

Photographs by Inez and Vinoodh, Styled by Edward Enninful
From left: Marc Jacobs jacket, dress, and briefs. Marc Jacobs jacket, T-shirt, and jeans; Inez and Vinoodh earring. Marc Jacobs gown. Beauty note: For phenomenal skin, use Olay Regenerist Luminous Light Hydrating Lotion.

Photographs by Inez and Vinoodh, Styled by Edward Enninful
From left: Fenty Puma by Rihanna jumpsuit; Balenciaga boots. Jacquemus jacket and pants; Michael Kors Collection boots. Beauty note: Conjure good hair with Oribe Bright Blonde Radiance & Repair Treatment.

Photographs by Inez and Vinoodh, Styled by Edward Enninful
Chloe overalls and sweater; Louis Vuitton boots. beauty note: glow in the dark with giorgio armani prima smart moisture serum.

Photographs by Inez and Vinoodh, Styled by Edward Enninful
Alexander McQueen gown; Stuart Weitzman boots.

Photographs by Inez and Vinoodh, Styled by Edward Enninful
Photographs by Inez and Vinoodh, Styled by Edward Enninful
From left: Viktor & Rolf gown. Azzedine Alaia dress; Tia Mazza veil; Mokuba ribbon (around neck); Inez and Vinoodh ring. For stores, prices, and more, go to Wmag.com/where-to-buy-september-2016.

Hair by Malcolm Edwards at Art Partner; makeup by Dick Page for Shiseido at Jed Root; manicures by Karrie Welch at Anchor Artists. Models: Isabella Emmack at DNA Model Management; Lexi Boling at IMG Models; Jamie Bochert at the Lions NY; and Odette Pavlova at Next Management.

Photographs by Inez and Vinoodh, Styled by Edward Enninful
Christopher Kane dress; Daang Goodman for Tripp NYC fishnet shirt; Louis Vuitton rings; Agent Provocateur tights; Balenciaga boots.

PRODUCTION BY V.l.m. productions; executive producer: stephanie bargas; production coordinator: eva harte; Studio Coordinator: Tucker Birbilis; Lighting Director: Jodokus Driessen; Studio Manager: Marc Kroop; Digital Technician: Brian Anderson; Photography Assistant: Joe Hume; fashion assistants: ryann foulke, dena giannini, sam walker; hair assistant: sophie anderson; makeup assistant: gina daddona; special thanks to the City of Salem, Massachusetts; Mayor Kimberley Driscoll; Winter Island Park in Salem; forest river park in salem; salem pioneer village 1630; The City of Salem Parks, Recreation & Community Services department; Salem Maritime National Historic Site; Destination Salem; Peabody Essex Museum; and Patrick Dougherty at stickwork.net

Photographs by Inez and Vinoodh, Styled by Edward Enninful
Watch four models channel modern day witches in Salem: