Lana Del Rey Is Feeling Conflicted About Coachella, and It Inspired a New Song
Coachella's First Daughter has qualms.
---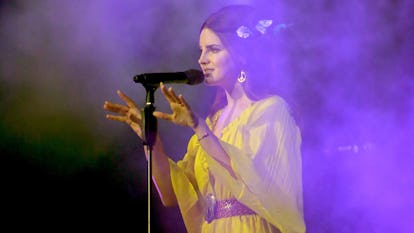 FilmMagic/Getty Images
Child of the flower crown Lana Del Rey spent the weekend at Coachella as dictated by her life story heretofore, but Del Rey's characteristic ennui rudely managed to wriggle its way into the proceedings. The good news? For Del Rey, melancholy means music, so the singer came away from the festival's kickoff with a brand new-song and a dose of perspective for us all.
Del Rey documented her Coachella journey on Instagram, where she admitted to feeling torn up about partying in the desert while the rest of the world was engaged in a metaphorical mosh pit of its own. "I'm not gonna lie—I had complex feelings about spending the weekend dancing whilst watching tensions w North Korea mount," she wrote in a post. Like many of those who have felt politically riled up throughout Donald Trump's presidency, Del Rey expressed the difficulty of balancing an obligation toward engagement with an ability to actually enjoy life. Or, as she poetically put it, "I find It's a tightrope between being vigilantly observant of everything going on in the world and also having enough space and time to appreciate God's good earth the way it was intended to be appreciated."
Del Rey channeled the resulting tension into a song, a snippet of which she then shared a cappella from the serenity of a sequoia grove located "at the rim of the world highway." She explained, "I just wanted to share this in hopes that one individual's hope and prayer for peace might contribute to the possibility of it in the long run. Hope everyone has a nice day, with love from California."
It's unclear if we'll ever hear a more complete version of the tune, since Del Rey didn't say whether it would appear on her upcoming album Lust for Life or any other future work. Regardless, let's just be grateful the song in part redeemed Coachella for Del Rey, because a world in which she and the music festival are at odds is a world in which our lust for life is pretty well dampened.
Related: Lana Del Rey, Witch, Will Use Her Dark Powers to Defeat Donald Trump at Midnight
See What's Trending in W Video: