Lars von Trier's The House That Jack Built Has This Year's Most Controversial Movie Trailer
Lars von Trier's "The House That Jack Built" is already controversial.
---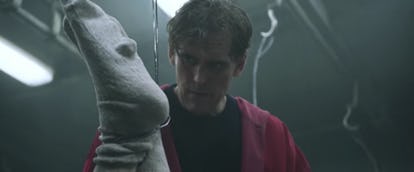 The Danish auteur Lars von Trier is no stranger to courting controversy, so if you were expecting anything safe or subtle about his upcoming serial killer film The House That Jack Built, then, well, that's on you. In the two minutes and 44 seconds of the trailer alone we get Matt Dillon, playing the titular serial killing Jack, bonking Uma Thurman unconscious, menacing another bound and gagged woman, inspecting a pair of socked feet he strung up with wire, and, in a flashback, attempting to do some horrible things to a small duckling (PETA, by the way, has already defended that scene).
Indeed, when the film premiered at Cannes earlier this year and was met with outrage from certain critics, some wondered if perhaps von Trier was just trolling his detractors by making one of his most violent films yet. He says he isn't, but one interview the director has given about the film does include a preoccupation with the idea of battling against PC culture and his attempts to deliberately not please everyone. "It's quite important not to be loved by everybody, because then you've failed," he told Cineurope about the critical backlash. "I'm not sure if they hated it enough, though. If it gets too popular, I'll have a problem. But the reception seemed just about right."
At the same time, he's also tried to position the film as something of a reaction to the rise of Donald Trump. "The House That Jack Built celebrates the idea that life is evil and soulless, which is sadly proven by the recent rise of the Homo trumpus—the rat king," he said, according The Guardian.
In the film, Dillion's Jack is portrayed as a highly intelligent killer who looks back at the five most important kills of his life. Though some men and children are among his victims, the majority are women. In addition to Thurman, Riley Keough, Bruno Ganz (perhaps most famous for playing Hitler in Downfall), Siobhan Fallon Hogan, and Sofie Gråbøl fill out the cast. Three of those women play characters known as only Lady 1, Lady 2, and Lady 3, while Keough's character is known as "Simple."
The movie also arrived after von Trier and Thurman found themselves on different ends of #MeToo accusations. Thurman claims she was sexually harassed by Harvey Weinstein, and also blamed him for suppressing footage of an injury she sustained while making the Kill Bill films. Meanwhile, Björk, who starred in von Trier's movie Dancer in the Dark, claimed that the director sexually harassed her, but von Trier denied the accusations. Famously, Björk decided she'd never act after filming the 2000 movie, even as she won the Best Actress trophy at Cannes for her role. The ending of that film is also highlighted as a standout instance of von Trier's tendency to inflict extreme violence on his female characters.
Yet, despite all of this, von Trier premiered Jack at Cannes earlier this year (he had been absent from the festival for years following a 2011 incident in which he made a joke about Nazis at a press conference). While the film found some champions, it received mostly moderate to negative notices. "As it turns out, the film's most offensive qualities have nothing to do with its grotesque violence and displays of human mutilation, but its terminal navel-gazing and reductive, borderline harmful ideas about art," wrote New York's Emily Yoshida.
The film, however—as previously mentioned—has found some support from PETA. Despite a backlash against the character's violence toward the duckling, the animal rights group says that no animal was actually harmed. In a statement provided to The Hollywood Reporter, the group's senior vice president Lisa Lang wrote, "It's true that serial killers, like the character in the film, often get their start by first torturing animals, making the scene all the more realistic and disturbing."