Meet Larsen Thompson, the Los Angeles High Schooler Poised to Take Over the Fashion World
With Emma Stone's freckles and the moves of a Justin Bieber dancer, this rising star is making a name for herself one viral video at a time.
---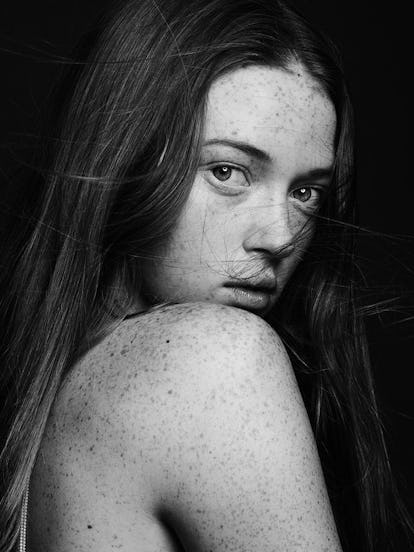 Irvin Rivera / @graphicsmetropolis.
When Larsen Thompson was four years old, her mom signed her up for dance class, as mothers are wont to do. But for Thompson, it caught on: By age nine, she was training in no fewer than six different disciplines, including hip-hop, tap and ballet, and by 12 she was traveling across the globe for dance conventions.
Lately, though, the 15-year-old rising star, who recently appeared in W's Facebook Live video inside Martin Creed's Park Avenue Armory takeover, has expanded her reach. Last year, she formed the dance duo Fraternal Twins with her friend Taylor Hatala. The duo posts videos of choreography for tracks like Beyoncé's "Run the World (Girls)" and Big Sean's "I Don't Fuck With You" on YouTube — which is how she caught the attention of film director MJ Delaney back in May. Delaney recruited Thompson to appear in her Spice Girls-soundtracked video #WhatIReallyReallyWant for the Global Goals campaign, which aims to promote empowerment among girls in underserved communities around the world and spread awareness about economic and educational inequality. The video quickly went viral, racking up 1.5 million views and earning a retweet from Posh Spice herself.
"I love her — so seeing that, I was like, 'Oh, my gosh, this is cra-a-azy," Thompson said when we spoke last week, nearly singing with excitement.
(Still, going viral isn't exactly a new sensation for the Fraternal Twins — their Beyoncé video earned nearly 7 million views, while the Big Sean choreography was played nearly 4 million times.)
Thompson is a Los Angeles native, bubbly and outgoing, with long red hair and a smattering of freckles reminiscent of Emma Stone, and has that west coast girl's affection for the beach. She repeatedly notes that she's been "blessed" — for her large Instagram following, her recent flood of work, the virality of her Fraternal Twins videos. When she's off duty — a rarity, admittedly — she spends most of her time with her brothers, ages 9 and 17, going to the movies, playing soccer, at amusement parks, or "just watching Netflix and chillin'."
Professionally, dance isn't all. She signed on with children's talent agency Zuri Models in 2013, graduating to global model management powerhouse Next last year. She's done campaigns for Juicy Couture and Target, in print and on television. (And on billboards; her friends text her occasionally telling her they've seen her face around L.A.) Modeling has recently become her focus, and she was on hold for runway work in Paris (though it didn't pan out, due in part to recent restrictions prohibiting models under age 16 at Paris Fashion Week). She dreams of working with the Olsen twins, Gucci, or perhaps family friend Sofia Richie, the 17-year-old It girl, model, budding designer and younger sister of Nicole Richie.
Thompson is taking acting classes and voice lessons, too, all while juggling the academic responsibilities and social life of an L.A. teen. And, of course, she's still dancing — she has honed in on hip-hop more recently, because that's what's in demand these days, she explains, and she'd like to join Justin Bieber on tour as a backup dancer. Which is, in fact, not so far-fetched: Her Fraternal Twins partner Hatala danced with Janet Jackson on her "Unbreakable" world tour.
And none of these disparate art forms are really all that distinct for Thompson. Her dance work led to modeling work, like a gig for the ballet shoe and dancewear company Capezio's collaboration with Betsey Johnson, which in turn led to working on Johnson's main line. Practically, dance positions allow her to hit poses in modeling that she might not otherwise reach. "With dancing, it's all movement," Larsen explained. "With modeling — with doing poses and everything — you don't just want to stand there smiling or doing a serious face."
Brands have also started reaching out through her Instagram, where Thompson is something of a minor celebrity with 223,000 followers. It's forced her to clean up her social presence a little bit, she said — "Now it's a business, so I'm always making sure that what I post is high quality, a good caption."
Still, her busy schedule started to catch up to her. She found herself arriving home at 2 a.m. after a job and waking up at 7 a.m. to do her homework before school, so she transferred to home school for the last two months of her freshman year of high school.
But, "I just didn't like it," she said. "I like to be social… I don't want to just have friends in the industry."
So the rising sophomore is heading back to school come fall. "I'm going to wait till they kick me out again," she declared.