Your Guide To Last Minute Halloween Makeup Looks That Don't Require A Costume
Makeup artist Francelle Daly shares her last minute Halloween makeup tips and tricks.
---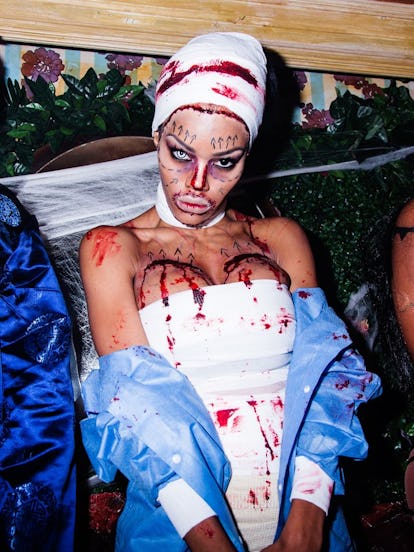 It's Halloween weekend and you don't know what to wear? Fear not. This haunted holiday season, let your makeup do the work for you. Thanks to makeup artist and Lovecraft Beauty founder, Francelle Daly, creating a makeup look that's as chic as a costume is easier than you think. However, before you bring out the face paint and glitter, Daly insists on using a micellar water, like Lovecraft Beauty Micellar Water ($20,lovecraft-beauty.com) for an "instant tone and cleanse before each application," to make sure skin is prepped and primed for makeup.
And if creating a full look seems like a daunting task, Daly revealed that using "red lipstick and clear lip balm or gloss for fake blood, a white eyeliner and red lip liner for a wound, or nude eyeliner and red gloss for vampire bites," are an effortlessly easy ways to still make your look stand out. Here, Daly shares her last minute Halloween makeup ideas, her best application techniques, and more.
Masked Ball
All you need is a simple brush and some face paint, or you can go pro and use MAC Chromacake ($28,maccosmetics.com). Draw the intended shape, as seen above, that you want and fill in. When the face paint is almost dry, pat some dry glitter on top of the damp face paint with a brush or finger for an instant shimmer effect.
Vampire
Start with the eyes and fill the waterline in with black eyeliner, then continue to fill the outside of the eye and lid with the same shade. Use your finger to smudge and smear liner into eye crease for dramatic effect. Prep your lips with a lip balm of your choice, and use black eyeliner to fill the lip in. Both completely matte and dramatic black lips or a more smudged look works.
Burlesque Dancer
A red lipstick can do a lot of wonders of Halloween. To start, take a small lip brush or eyeliner brush and your favorite red lipstick and follow the shape of your lip. Continue to bring it out the desired shape with the small brush—whether a full clown lip or a 1930's heart shape, you can't go wrong. For mascara, coat the lashes like crazy and pinch together, and voila—instant drama.
Related: 5 Eyeliners To Keep In Your Makeup Bag For An Emergency Halloween Cat Eye
Ali Michael Scares New Yorkers in High-Fashion Halloween Costumes