Meet Lastlings, Australia's Next Big Cult Pop Act
The synth-pop sibling duo Josh and Amy Dowdle had a cult following before they even had a label or had played their first live show.
---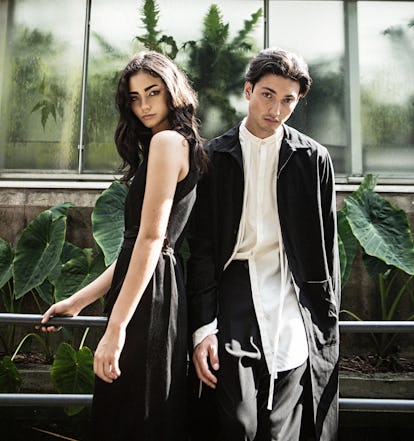 Jessica McDonald
On March 7, Lastlings, the Australian synth outfit of brother-sister duo Josh and Amy Dowdle, sent out a cryptic tweet: "March 17 ?." It was a quiet hint at their sophomore EP Verses, a guerrilla release from a band that got its start quietly releasing songs online in late 2015. From there, they have cultivated a following on the strength of their trip hop-inflected music; last month, with an EP (2016's Unreality) and a slew of singles under their belt, they signed with the upstart Aussie label Exist Recordings, the pet project of Brisbane producer Danny Harley. This Friday, the siblings will play the last of a short run of sold-out tour dates in support of Verses, which took them from a hometown show at Surfers Paradise's Elsewhere Bar to the bright lights of Sydney.
Lastlings' ascent is all the more striking considering the duo hails from the Gold Coast, a region better known for its surf rock than its electronica. (Melbourne, by contrast, is Australia's electronica mecca.) And at first, that's exactly what Josh Dowdle did: A recent college graduate, he played in garage bands with friends while studying biomedical science, the first step on a pre-medical trajectory. The quintessential Gold Coaster, he's also an avid surfer. Amy, a classically trained pianist, would drop in on him from time to time, hopping on the keyboard or setting up behind a drumkit. The Lastlings project evolved organically from there, beginning shortly after Josh's graduation two years ago; the duo shared a fascination with the sonic possibilities of electronic music, Amy a professed fan of Jamie xx, and Josh of Nicolas Jaar. They released their first single, "Verona," a lo-fi, xx-ish track, on Soundcloud in late 2015.
Lastlings is part of a milieu of young musicians, barely out of high school, parlaying their internet savvy into a devoted fan base before they've even signed with a label or performed a live show. Their lyrics are often as abstract as the collage of sounds that make up their melodies: "Pieces of my lungs, fool my body colder; paint me on the wall," Amy sings, breathless, on "Verona." Though understated, her voice fills the tracks with a depth that recalls London Grammar's Hannah Reid.
"I'm a big fan of saying more with less," Josh said.
"Everyone can have their own meaning for the song," his sister added. Occasionally, she said, laughing, Josh will go into overprotective-big-brother mode: "We get asked, 'What do you sing about?'" she said. "'Uh, a crush?' And Josh is like, 'Who's the crush?'" she added, imitating her brother's voice. (Josh, 22, is six years her senior.) They've also pulled from their multicultural background (their mother is from Japan) to shape their writing, drawing inspiration from the works of Haruki Murakami (when we spoke, Josh was working his way through Kafka on the Shore) and Hayao Miyazaki's Studio Ghibli. The first track on their Unreality EP is "Iriguchi," the Japanese word for "Entrance."
But while Lastlings is still in its infancy, nearly two years on, they have yet to release a full-length record. Josh maintains a "casual job" and Amy is finishing up her last months of school—and then they plan to devote their full attention to Lastlings.
So at 17 and 22, when did the siblings realize they could make a go of music? "I don't think we have yet," Josh said.
Kendall Jenner and Gigi Hadid Dramatically Reading "Baby" By Justin Bieber Will Blow You Away