From Laura Dern to Michelle Pfeiffer, 2017 Was the Year of the Comeback
Actresses like Laura Dern, Laurie Metcalf and Nicole Kidman had some of their best career years ever in 2017.
---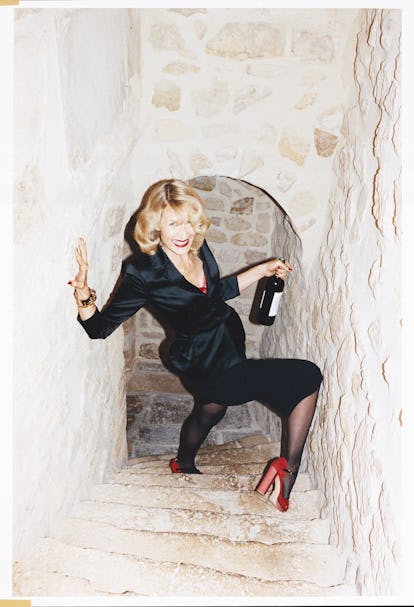 Teller Juergen
In a year that may be defined in history by incompetent men besting far more qualified women—look no further than the White House—there is at least a little solace we can take in the fact that this year in Hollywood may be defined by the resurgence of women of a certain age. The old adage of "there's no good roles for women over 40" has been slowly chipped away at thanks in large part to the rise of peak TV (just look at whats its done for Jessica Lange), but 2017 proved to be a banner year for actresses re-establishing themselves later in their careers and on their terms, especially on the big screen. Here, our favorite actress comebacks of 2017.
Laura Dern
This year, it seemed as if everywhere you could turn, there was Laura Dern. Perhaps in other hands, her role in Big Little Lies might have been an unlikeable character, but Dern turned "Renata" into a character with her own cult fan base and she won an Emmy in the process. Over the summer she wowed in the revival of Twin Peaks, and, then, just for good measure, she entered the Star Wars universe as Vice Admiral Holdo in The Last Jedi.
Laurie Metcalf
The prelude to Metcalf's renaissance occurred in 2016, when she wound up nominated in three different Emmys categories. While she came up empty handed, she had the sort of 2017 that actors can only dream of. She kicked of the year with a critically-acclaimed turn in Broadway's riotous A Doll's House, Part 2, which won her the Tony Award for Best Actress in a Play, and continued the year with a performance in Lady Bird that may not only lead to her first Oscar nomination ever but may very well lead to her taking the stage to accept the trophy next March. Of course, in 2018 not only will she return to the role that made her famous as Jackie in the Roseanne revival but she's headed back to Broadway with Three Tall Women. We are truly living the golden age of Laurie Metcalf and it is glorious.
Mary J. Blige
While reigning as the queen of hip hop soul, Blige has maintained an occasional acting career with turns in films like Rock of Age and I Can Do Bad All By Myself, but with her lauded turn as the family matriarch in Dee Rees' Mudbound, Blige established herself a true talent with several nominations already under her belt for the role.
Michelle Pfeiffer
Fifteen years ago Pfeiffer decided to do the unthinkable in Hollywood: she stepped back from her A-list career to raise her children. While she still appeared in films occasionally, she would go years without making any noise. Indeed, her last credit before 2017 was back in 2013. Well, her kids are officially raised and Pfeiffer is back to full-time acting. The return kicked off quietly in January with a devastating role in Sundance film Where Is Kyra, which proved to be one of the most demanding roles of her career. By May, she was co-starring as Ruth Madoff alongside Robert De Niro's Bernie Madoff in HBO's Wizard of Lies (which earned her Emmy and Golden Globes nomination). September's mother! may have been the most divisive movie of the year, but it seems the one thing we all could agree on was, 'You know, it's really nice to have Michelle Pfeiffer back.' Rounding all her bases, Pfeiffer finished out her year with the box office hit Murder on the Orient Express. Not a bad way to start your official comeback, not a bad way at all.
Nicole Kidman
Of course you can't talk about the year in actress resurgences without talking about Nicole Kidman, but did Kidman ever really go away? In a certain sense, no. Despite once being the highest paid actress in Hollywood, Kidman has spent the past 15 years pursuing a career as the world's most famous art house actress with what seemed like a goal of working with just about every noted auteur in the world. She seemed quite content if that pursuit kept her out of the limelight, but in 2017 the stars aligned and Kidman had perhaps the best year in Hollywood, and without giving up her values. There was, of course, the Emmy-winning role in Big Little Lies. There was also the matter of the fact that she had four different projects premiere at the Cannes Film Festival (The Beguiled, Killing of a Sacred Deer, Top of the Lake: China Girl, and How To Talk to Girls at Parties), a feat that ended with her receiving the festival's special 70th Anniversary Prize. In the process she returned to the top of the Hollywood A-list, a development that the actress seemed at times tickled over. "I want to tell all the women out there—it is not over at 40. It is not even over at 50," she said in June while receiving an award from British Glamour. "I'm going to take this as a birthday present—I'm about to turn 50 in two weeks, and I never thought this would be one of my best years."
Related: The Year Nicole Kidman, Hollywood Enigma, Really Spoke to Us