Lauren Bush's Inaugural Designs
Lauren Bush begins her first term in fashion.
---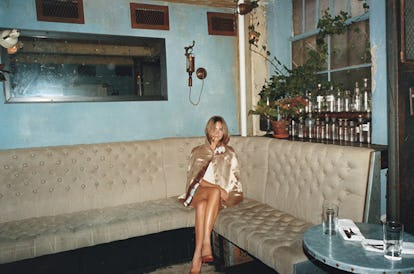 Of all the political progeny with designer potential, Lauren Bush, niece to George W. and granddaughter to George H.W., is the most likely candidate. She's a former model—once the face of Tommy Hilfiger's ad campaign. During college she spent summers studying design at Parsons The New School for Design and Central Saint Martins College of Art and Design. She also interned for Zac Posen. And for the past few years she has been on the arm of David Lauren, who, with a father named Ralph, could well be considered the first son of American sportswear. In light of all that, some might say the debut of Bush's ready-to-wear line, called Lauren Pierce, was only a matter of time.
Indeed, Bush has been hard at work on her capsule collection of environmentally sustainable clothes since early 2008. But before we get to that, an obvious question looms: Why go with her middle name, Pierce, and not Bush? "It wasn't a conscious decision," she says. Oh, come on.
"Obviously my last name is associated with politics," Bush continues. "But Pierce is my grandmother's maiden name and my younger brother's name. It's not about downplaying my last name as much as it is about loving Pierce. And my brother is very flattered."
Fair enough, but the assumptions won't stop with the collection's name. When conversation turns to Bush's boyfriend, she's quick to acknowledge her admiration for the Ralph Lauren taste and tradition but makes clear that anyone expecting a Lauren Pierce line of polos and cable knits is mistaken.
"Obviously in dating David and spending time with his family, they've been inspirational in some way," says Bush, noting that she hasn't shown her collection to his father. "But I've been interested in doing something like this since before ever meeting David."
In fact, Bush's biggest influence is her social consciousness. In 2004 she became an honorary spokesperson for the United Nations World Food Programme, and three years later she designed a burlap bag to benefit the WFP. The FEED Projects, as it's known, has since raised nearly $2.7 million for hungry children. "I wanted to expand on that [project] in a way that targets women and makes an impact on the sustainable world," says Bush. Launching for spring 2009, the 15-piece collection of simple, smart styles (all will be produced in New York, retailing from $130 to $863) is anchored in sustainability. Fabrics include hemp silk, bamboo and organic cotton, though Bush points out that there is a difference between sustainable and organic, and that not every piece falls into the latter. "It's less about, 'I have to be an eco line,'" she says. "But if I was going to make a line, it was important that it was about low-impact fabrics." While Bush designed all the silhouettes, several styles are made from colorful cotton hand-dyed by women living in Congo. "I give them no creative direction," says Bush, who was put in touch with local female artisans through a program called Women for Women International. "They do what they do. It's their tradition."
One of Bush's goals for the collection is supporting underprivileged women in the developing world; she's been advocating for the issue since her Princeton University days, when she wrote her senior thesis on the topic. "They're more oppressed; they eat less; they suffer much more just because of their gender," says Bush, noting that her work for the UN further opened her eyes to their plight. "The important thing to me is giving them a trade, a purpose, a livelihood, a job." Thus, 10 percent of Lauren Pierce's profits will go back to Women for Women. In addition Bush will continue working with that organization and others to broker partnerships each season with artisans from various developing regions.
All of these weighty issues certainly resonate this year. And Bush can call her collection whatever she wants, but taking her name out of the equation won't take political questions off the table. So will she be thinking Obama or McCain come Election Day? "I don't know. [Obama is] still so new. He seems like a strong leader, but we'll see," she says. "I haven't decided who I'm voting for."