Don't Fear Lauren Cohan
The Walking Dead actress talks about her on-screen battle with zombies, and off-screen relationship to fans.
---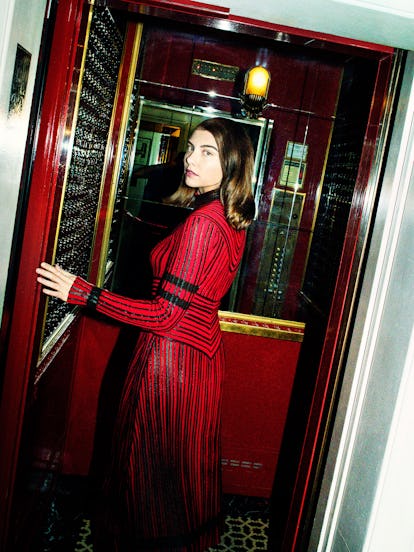 AMC's The Walking Dead, in which week after week characters run for their lives in the wake of a zombie apocalypse, is one of the highest-rated cable shows in the United States. It has spawned a program devoted solely to discussing its many deaths and intrigues (Talking Dead), as well as an upcoming spin-off (Fear the Walking Dead). "I don't know what this obsession with zombie culture says about us," says Lauren Cohan, the British actress who plays the headstrong Southerner Maggie Greene in the series. Onscreen, she constantly battles the hungry undead; in real life, she must contend with the show's no less voracious Comic-Con–storming fans. "I get anxious sometimes," she admits. "But I believe that when I wear my glasses, I'm invisible to them."
Lauren Cohan of The Walking Dead in Salvatore Ferragamo. "The Ones to Watch," photographed by Pari Dukovic, styled by Patrick Mackie; W Magazine July 2015.
Thomas Middleditch, Silicon Valley HBO's Silicon Valley, which won a Critics' Choice Television Award for best comedy series, ** is set in a company town—one ruled by geeks-turned-billionaires. It's a weird, insular, paranoid culture that hasn't been adroitly satirized until now. "Some things are exaggerated for comedic effect, but I've had interactions with bona fide programmers and felt like I was living in the TV show," says Thomas Middleditch, who stars as Richard Hendricks, the creator of an algorithm that might just put him, in the show's parlance, in the "three-comma club." Still, his path is littered with sharklike corporations, sacrificed ideals, and a parade of techies blessed with big brains but zero social skills. "I don't want to generalize this inability to be socially normal to all of Silicon Valley," says Middleditch, who admits to a more traditional nerdiness (video games, Renaissance fairs). "But some of the guys are shockingly bizarre."

Middleditch wears a Marc Jacobs blazer, shirt, and turtleneck.

Photographer: Pari Dukovic Stylist: Patrick Mackie
Yolanda Foster, The Real Housewives of Beverly Hills When she joined the cast of Bravo's The Real Housewives of Beverly Hills in the reality program's third season, Yolanda Foster was expecting to have more than her share of trashy fun. But almost immediately thereafter, she was diagnosed with Lyme disease. "I had much more glamorous plans for myself, obviously," she says with a resigned laugh. Instead, the former model parlayed her celebrity into a platform for greater awareness of the condition. She's extended her campaign onto Instagram—a tool that's been kind professionally to both Foster and her daughters, the ubiquitous models Gigi and Bella Hadid. "When I was modeling 30 years ago, we didn't have that," Foster says. "You went around with your portfolio, begging for jobs. Now, these kids establish themselves on social media and they just run with it."
Foster wears a Carolina Herrera top and skirt.
Derek Hough, Dancing With the Stars Before he became a regular on ABC's Dancing With the Stars, the hugely popular live competition that has brought ballroom dancing to the masses, Derek Hough was wary of reality TV. "It just seemed absurd to me," he admits. But his sister, Julianne, convinced him to appear as a guest dancer, and he hasn't looked back in 15 seasons—even if the show, on which Marie Osmond fainted and Bristol Palin shed bitter tears, can be physically and emotionally taxing. "If youtry to be cool, if you worry about being embarrassed, you're doing it for the wrong reasons," Hough says. "You've gotta embrace it—and sometimes that means going for a ridiculous song."
Hough wears a Dsquared2 shirt and pants.
Mindy Kaling, The Mindy Project The protagonist of Mindy Kaling's sitcom The Mindy Project, which recently moved from network TV to Hulu, is a 30-something ob-gyn also named Mindy, who, like so many rom-com heroines, is great at her job but terrible at life. Still, she's learning and growing, in fits and starts—just like the show, now in its fourth season. "A lot of people say you shouldn't serialize TV comedy, that you should be able to turn on an episode of, say, Seinfeld, and have it stand on its own," Kaling says. "But it would be hard to have this woman who wants so badly to change in a show that doesn't. I want you to keep checking in with these characters." And there's still some work to do: The Mindy she plays is shameless, self-centered, and shallow. "She's one of the worst-behaved female leads in the history of television—and that's something I'm proud of."
Kaling wears a Prabal Gurung dress; Maximilian cape; L'Dezen ring.
Ashley Benson, Pretty Little Liars It makes sense that one of the most-tweeted-about TV shows—ABC Family's prime-time teen soap Pretty Little Liars—also attracts some of the network's youngest viewers. "Our fans who started watching from the beginning, five years ago, are all now going into college," says Ashley Benson, who stars as one of a clique of four high school girls whose outlandish behavior seems tailor-made for the social media era. But the Liars are growing up. In the second half of the next season, the show will jump ahead in time to reconnect with the girls four years later. "We get to play more of our actual age," says the 25-year-old Benson. "I can't wait to be out of high school!"

Benson wears a Narciso Rodriguez dress.

Photographer: Pari Dukovic Stylist: Patrick Mackie
Jussie Smollett, Empire There is no shortage of talented musical performers on Fox's hip-hop opera Empire, but few of its stars have as much invested in the drama's catchy jams—the soundtrack went to No. 1 on Billboard's 200 chart—as Jussie Smollett, who plays the fiery singer Jamal Lyon, the gay son of the entertainment tycoon at the center of the show. "Jamal is very much like me in that he's an autobiographical songwriter," says Smollett, who cowrote several songs that have become hits, including the Lyon clan's de facto anthem, "You're So Beautiful." "Many of my own stories parallel his." But while Jamal's public coming-out during a performance of that track was an emotional high point for the series and its fans, Smollett, who is gay, wants to make it clear that he was never actually in the closet. What he appreciates most about Empire is that it simultaneously offers fizzy diversion and serious conversation. "These things go hand in hand."
Smollett wears a Tom Ford jacket and turtleneck.
Jay and Mark Duplass As television trends ever soapier and more plot-packed and over-the-top, it could be argued that the most emotionally affecting shows are no longer the big-ticket prestige dramas but the modest, intimate comedies. Think Louie, Girls, and Transparent, the Golden Globe–winning Amazon series costarring the filmmaker Jay Duplass in his first significant onscreen role. Then there's HBO's Togetherness, created by Jay and his brother Mark. This sitcom's rather conventional log line—throw some volatile characters together under one roof, stir—belies the wild, brutally honest revelations of the often-improvised performances wrung from the cast. "We're setting a dramatic bar that's lower than, say, people getting killed," Jay notes. "What's always appealed to us is what's going on inside our heads and in our relationships. That's the big stuff. To us, that feels like life and death."

Jay wears a Brunello Cucinelli suit, shirt, and tie; his own sunglasses; stylist's own pocket square. Mark wears a Brioni suit, shirt, and tie; stylist's own belt.

Photographer: Pari Dukovic Stylist: Patrick Mackie
Gillian Anderson, Hannibal For someone who once turned her nose up at television, Gillian Anderson is on the tube quite a lot. When the much-anticipated revival of the cult sci-fi program The X-Files—which made her famous and won her an Emmy, a Golden Globe, and two Screen Actors Guild awards more than a decade ago as the FBI agent Dana Scully—premieres as a six-part miniseries on Fox in January, the London-based actress will be on no less than three shows. There's also NBC's Hannibal, in which she plays Hannibal Lecter's psychotherapist, and the BBC's The Fall, where she stars as a detective tracking a serial killer. All three characters, by nature and by profession, seem to be coated with Teflon. "The challenge is to keep these women out of Scully," Anderson says. "Especially when I'm having equally fearless conversations with other law enforcement officials." She laughs and admits that reprising the meticulous Scully—whom she inhabited for nine seasons and two films—is a bit like riding a bike. "Somewhere before the first read, it'll just click into gear."
Anderson wears a Bottega Veneta dress.
Hair byTamara McNaughton at Management & Artists; makeup by Ozzy Salvatierra for Cle de Peau Beaute at Streeters; photography assistants: Amy Moore, Matt Hartz, Braden Moran; fashion assistant: Jennifer Austin; set design by Juliet Jernigan. Special thanks to Chateau Marmont.