Lauren Foster, Pioneering Trans Model, Balances Art Basel with Her Hospital Day Job
Lauren Foster has worked tirelessly for the LGBT community since her days as a model, but is uncertain about fashion's latest Trans moment. "I don't want to play into the idea that Trans is suddenly fashionable, or its a fetish," she says.
---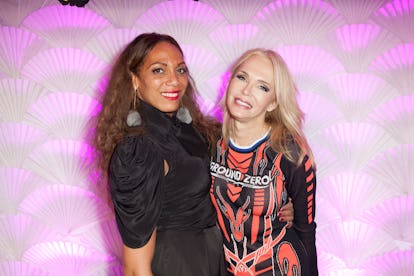 Getty Images
There's a lot of things interesting about Lauren Foster. For one, she may be the only person with a day job as the Director Concierge of a hospital department making the rounds of the Art Basel party circuit. If she isn't, she's certainly the only one who has a glam squad on call to help her get ready. Then again, glam is a hard habit to break when you previously worked full time as a fashion model, as Foster once did.
"I'll go to Soho House after this, get home late, get up at about six, go to work and I'll be fine," said Foster on Tuesday night after attending the Interview and Tiffany & Co. event in honor of Paloma Picasso on Tuesday. "I have a hair dresser and a makeup artist that help me."
There's also the little fact that when Foster's fashion career was gaining momentum back in the '80s, tabloid journalists started hounding her family and friends about the new model's past. After she appeared in a six-page spread in Vogue Mexico, tabloids ran the story that when Foster was born her birth certificate listed her as male. She had identified as a girl for most her life, and indeed was diagnosed with Klinefelter's syndrome, meaning she was born with an XXY chromosome pattern. With the support of her family, she had fully transitioned by the age of 18.
After the tabloid notoriety, Foster lived life as the "It Girl for the Trans community," as Warhol superstar Holly Woodland once described her, but eventually settled down in South Florida where she's worked in marketing, event planning all while continuing to be a visible LGBTQ advocated in the community. She now works as the Director Concierge for LGBTQ Services at the University of Miami Hospital. In the position, she's tasked with helping Trans patients navigate the process of gender-confirming surgeries and other LGBTQ specific health needs.
"It's super cool, but let me tell you, it's challenging," said Foster of her new job. "Everyday at 8:30 a.m. I have a board meeting. I'm running a whole area of the University medical practice. It's pretty rigorous."
In between those days as a Trans It Girl and her career as medical services professional now, the world of pop culture and fashion have fully embraced the transgender revolution. Models like Andreja Pejić, a friend of Foster's, and Hari Nef, are both fully in demand in the pages of magazines and on the social scene. Foster, too, has seen her profile rise again thanks to the moment, as evidenced by her full schedule of Basel events. Though, she's worried that the moment might not last, and while she's happy to advocate for the entire LGBT community, she says she sometimes shies away from identifying as a Trans role model. Her story is different from many other Transgender people she clarifies, and she's still trying to make sense of the moment and what it means in the long term.
"I don't want to play into the idea that Trans is suddenly fashionable, or its a fetish," she says.
She's wary that whatever strides have been made for Transgender people in general and Transgender models specifically in the past few years could suddenly find themselves reversed.
"It's great for now, but I've been through a couple of generations. I'm a lot older than them, so you always have to think about the future. And right now it might be really cool to be advertised as that person, but do you really want that? I don't know. I'm torn between the two. I really am. I love fashion so much, but the idea of fashion and this trans revolution together kind of blurs that line. It's two different things. Don't necessarily put those two things together. People think 'Oh, you're trans, you have to be fashionable,' and not everyone is, or even wants to be."
"I have a good friend of mine, her names Tula, she was a Bond girl, and her and I talk every day," says Foster, referring to the former model also known as Caroline Cossey. Cossey, too, had a budding career as a fashion model in the late '70s and early '80s, but after she snagged a part in a James Bond film, the gender she was assigned at birth was revealed by tabloids as well.
"Our lives have lead us to so many different opportunities. We're both really unsure of what's going on. We get offered things, TV projects, and we're both going to be in Candy next month, and a lot of this stuff is going on, but we kind of sometimes think, 'Are we doing the right thing? Is this going to backfire on us?' and no one knows.'"
There is perhaps no more worrying sign for the status of Transgender rights than the long held anti-LGBT positions held by Vice President-elect Mike Pence and many of the men and women President-elect Donald Trump is said to be filling his cabinet with. In fact, the day after the election, Foster happened to be scheduled to film an appearance on I Am Jazz, the TLC reality show that stars the South Florida-based Trans teen role model Jazz Jennings, on the day after Trump's victory.
"They filmed the day after the election and the whole day while we were filming her mom was getting, and I'm not lying, it must have been like 40 text messages from mothers of Trans children who were terrified about what this new regime in the White House meant to them and their families."
For now though, Foster continues to live her life as a working woman with a busy social calendar, all while also trying to find time to date. She was recently on hand in New York for Tinder's recent announcement that it would give users multiple gender identity options.
"It's really kind of momentous that Tinder is now acknowledging these 37 different ways to identify yourself," she says. "I'm on Tinder, because I broke up with my boyfriend six months ago, but I'm on Tinder as a woman, because that's how I've always identified."
She also keeps up her website, JustAnotherGirl.Org, a name she chose because she says, "I always used to say 'I'm just another girl,' and my mother would say to me, 'Well, not just.'"