Move Over, Kendall Jenner: Lauren Hutton, 73, Is Calvin Klein's New Underwear Model
The legendary actress, along with a handful of other celebrities, was shot by Sofia Coppola for the brand.
---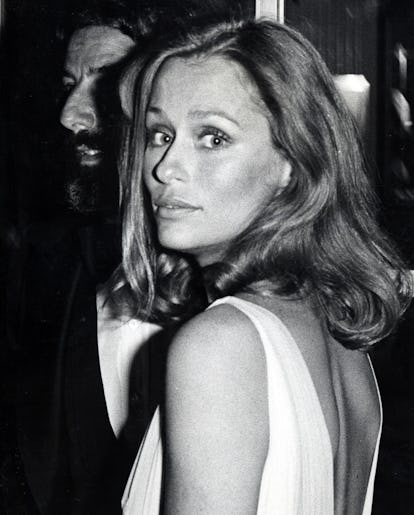 Calvin Klein's underwear ads are legendary (Marky Mark, "Nothing gets between me and my Calvins," et al.) So, it only makes sense that for its newest campaign, the brand tapped an actual living legend: Lauren Hutton.
It's a big change from the traditional Calvin Klein models, which tends to err on the young, pop-culture facing side of fashion–the more recent campaigns have featured Kendall Jenner and a shirtless Justin Bieber–but certainly a welcome one. Also welcome? The force behind the lens, none other than Sofia Coppola, who hand-selected Hutton for the campaign.
The Coppola-directed campaign video, which was released today, features six additional women who were also hand-picked by Coppola: Kirsten Dunst, Rashida Jones, Laura Harrier, Maya Thurman-Hawke (yes, daughter of Uma and Ethan), Nathalie Love, and Anna Sui's niece, Chase Sui Wonders.
Clocking in at just over a minute, the black-and-white video shows each of the women dreamily lounging in their underwear, occasionally throwing a smile towards the camera. Hutton, of course, steals the show, appearing at the very end of the clip, clad in an oversized polka-dot button down, open over a white bra. She's laying on an unmade bed, preening, before she grins directly to camera, exposing that famous gap tooth, before the label's new tagline is whispered by an unseen mouth: "Calvin Klein, or nothing at all."
Hutton is making a bit of a fashion comeback, seemingly on her own terms, as of late. The supermodel walked in Bottega Veneta's Spring 2017 show back in September, leading the finale arm-in-arm with Gigi Hadid and carrying the brand's new "Lauren" bag, an update on the archival clutch worn by her character in American Gigolo. Hutton also stars in the house's ad campaign, which serves as a celebration of its 50th anniversary. She also recently appeared in an editorial for LOVE alongside Irina Shayk, Dree Hemingway, and, yes, Kendall Jenner.
Hutton's new underwear gig comes off the heels of the Fall 2017 runway season that included models of every age at a number of shows, including Dries van Noten, Simone Rocha, and Creatures of the Wind. Here's hoping the trend is here to stay.
Related: 21 Glamorous Photos That Prove Lauren Hutton Was the Original It-Girl
The Best Advice Sofia Coppola Received From Her Dad, Francis Ford Coppola: "Don't Wait for Permission"
The Women of the Fall 2017 Runways Were More Diverse Than Ever
Jan de Villeneuve at Simone Rocha Fall 2017 show during London Fashion Week.

Photo by Steph Wilson
Benedetta Barzini at the Antonio Marras Fall 2017 show during Milan Fashion Week.

Photo by Getty Images
Vivienne Westwood walks in her own show during Paris Fashion Week.

Photo by Ambra Vernuccio
A model backstage at the Antonio Marras Fal 2017 show during Milan Fashion Week.

Photo by Getty Images
Collier Schorr backstage at the Eckhaus Latta Fall 2017 show during New York Fashion Week.

Photo by Alex Hodor-Lee
Marie Sophie Wilson at the Simone Rocha Fall 2017 show during London Fashion Week.

Photo by Getty Images
Cristina Morozzi at the Antonio Marras Fall 2017 show during Milan Fashion Week.

Photo by Getty Images
Cecilia Chancellor at the Simone Rocha Fall 2017 show during London Fashion Week.

Photo by Getty Images
Martina Ferrera backstage at the Dries Van Noten Fall 2017 show during Paris Fashion Week.

Martina Ferrera
Amber Valletta backstage at the Dries Van Noten Fall 2017 show during Paris Fashion Week.

Martina Ferrara
Halima Aden backstage at the Alberta Ferretti show during Milan Fashion Week.

Tristan Fewings/Getty Images
Ashley Graham at the Michael Kors Fall 2017 show during New York Fashion Week.

Estrop/Getty Images
Sandra Bernhard and models at the J.Crew Fall 2017 presentation during New York Fashion Week.

Krista Kennell/Getty Images
Juliette Branker at the Creatures of the Wind Fall 2017 show during New York Fashion Week.

Estrop/Getty Images
Halima Aden at the Max Mara Fall 2017 show during Milan Fashion Week.

Victor Boyko/Getty Images
A model walks the runway at the Dolce & Gabbana Fall 2017 show during Milan Fashion Week.

Victor VIRGILE
Kitty Spencer at the Dolce & Gabbana Fall 2017 show during Milan Fashion Week.

Jacopo Raule/Getty Images
Avie Acosta at the Marc Jacobs Fall 2017 show during New York Fashion Week.

Slaven Vlasic
Dara at the Marc Jacobs Fall 2017 show during New York Fashion Week.

Dimitrios Kambouris/Getty Images
Stav Strashko at the Marc Jacobs Fall 2017 show during New York Fashion Week.

Slaven Vlasic/Getty Images
Denise Bidot at the Chromat Fall 2017 show during New York Fashion Week.

Neilson Barnard/Getty Images
Sabina Karlsson at the Chromat Fall 2017 show during New York Fashion Week.

Neilson Barnard/Getty Images
Debra Shaw at the Dries Van Noten Fall 2017 show during Paris Fashion Week.

Peter White/Getty Images
Yasmin Warsame at the Dries Van Noten Fall 2017 show during Paris Fashion Week.

Peter White/Getty Images
Stella Duval at the H&M Studio Fall 2017 show during Paris Fashion Week.

Peter White/Getty Images
Kate Syme at the H&M Studio Fall 2017 show during Paris Fashion Week.

Marc Piasecki/WireImage
Georgia Pratt at the Tome Fall 2017 show during New York Fashion Week.

Neilson Barnard/Getty Images
Jacky O'Shaughnessy at the Tome Fall 2017 show during New York Fashion Week.

Estrop/Getty Images
Precious Lee at the Christian Siriano Fall 2017 show during New York Fashion Week.

Edward James/WireImage
Marquita Pring at the Prabal Gurung Fall 2017 show during New York Fashion Week.

Randy Brooke/WireImage