How the Artist Laurie Simmons Made a Movie in Spite of Everything
To make her first feature-length film, My Art, which just premiered Stateside at the Tribeca Film Festival, the artist had a lot going against her: a death in the family, the depiction of older women in film, and even the shadow cast by her own daughter, Lena Dunham.
---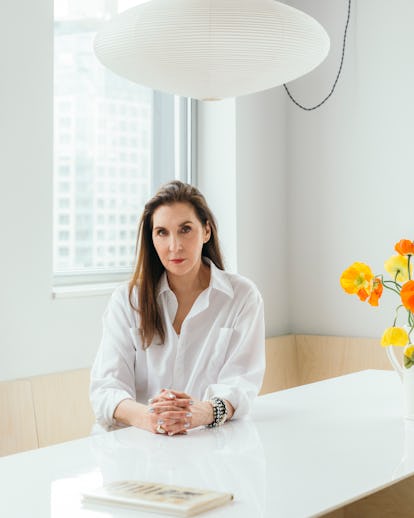 Visual Editor: Biel Parklee.
In 2009, the artist Laurie Simmons did a 24-year-old aspiring filmmaker a favor. She played a starring role, allowed her own apartment to be turned into a film set, and even created a spread of fake "movie art" for Tiny Furniture, an indie film directed by a then-unknown: her daughter, Lena Dunham.
The success of that film, of course, led to Girls, but also started Simmons down her own path: fulfilling her longtime dream of making a feature-length film—and in the process finally doing something about the way that artists, particularly older women artists, are depicted onscreen.
Now, seven years later, Simmons has turned the footage she shot in between keeping up her career as a visual artist—which has centered largely around photography since she emerged in the late '80s alongside Pictures Generation artists like Cindy Sherman—into My Art, a film she wrote and directed and which premiered late last year at the Venice Film Festival, and just made its stateside debut at the Tribeca Film Festival last week.
"I don't know what most filmmakers say, but it wasn't fun for a second," Simmons said with a laugh one recent afternoon in her Williamsburg, Brooklyn apartment. She was referring to the many sleepless nights required of her to play Ellie, a single, sixty-something artist who lives alone. ("Were you trying to live the life you always dreamed of?" Dunham joked to Simmons at the Tribeca premiere.)
There are many parallels, but the main character in My Art is not Simmons. Ellie is a New York professor who's in the country for the summer to house-sit. While she's there, she picks up a smoking habit and indulges in some edibles, and, most importantly, makes the next breakthrough in her art with the help of some local actors. In short, she's an amalgamation of some of the many real-life artists in Simmons's circle, several of whom make it into the film.
"I'm new to all this, so I can't imagine writing without hearing someone's voice," Simmons explained. "The people that I knew were informing the characters in a really strong way."
Simmons has always preferred to collaborate with her friends. In her first foray into filmmaking in 2006, she directed a three-part mini-musical on 35mm called The Music of Regret, starring Meryl Streep. "I'd known her, so I felt comfortable asking her," Simmons said casually.
"Every actor in the movie is someone I'm connected to," Simmons said of the cast of My Art, which includes everyone from her neighbors Robert Clohessy and Blair Brown to Dunham's friend and Tiny Furniture co-star Josh Safdie to a member of Simmons's women's film group, Barbara Sukowa (who was a favorite of Rainer Werner Fassbinder).
For those familiar with Simmons's milieu, this is just where the bread crumbs start to drop. The film begins with Ellie wandering around an exhibition at the Whitney Museum that Simmons was actually featured in—she even stops to stare at a particularly graphic painting by her real-life husband, Carroll Dunham—before she heads out of town for the summer to the house and barn where Dunham and Simmons live and work in Connecticut. Later on, her daughter Grace Dunham and her friend Marilyn Minter, the artist who serves as the inspiration (and lent her studio) for Ellie's best friend, make cameos at an opening at Salon 94, which is of course Simmons's gallery in New York. And then there is Lena Dunham, who shows up as Ellie's humble-bragging former pupil-turned-art star. It's she who really drives home Ellie's faltering art career.
"At first she was like, 'We don't need to put you in the movie, people are going to compare us enough,'" Dunham said at an afterparty for the Tribeca screening at the art-world restaurant Bottino, in Chelsea. Milling about the room was the artist Mickalene Thomas, the critic Jerry Saltz, and the gallerist Mary Boone, mingling with the likes of Molly Ringwald.
"But then she wrote this part of this kind of asshole-ic braggert and was like, 'I kinda think you're the one who can play it,'" Dunham added.
Simmons is close enough to her daughters to have called on both Lena and Grace constantly for support during the production—and especially before filming her nude scene. After all, as Dunham was quick to admit, they "happen to be a specialty of mine." (Lena's advice: Tequila.)
They weren't her only family members who shaped the film. The family dog, Dean, a fox terrier who suffered from the same degenerative disease as Ellie's dog Bing in the film, really pushed Simmons to complete My Art, when his impending death meant a "race against the clock" to shoot footage of him in both New York and their Connecticut home.
More unfortunate still, his wasn't the lone death to have an impact on My Art's production: Earlier that year, in the spring of 2013, Simmons's close friend the artist Sarah Charlesworth also died, this time quite unexpectedly. "Obviously I was really in shock, and maybe I was like a child who was trying to distract herself, but I started telling myself this story of this woman artist right after that," Simmons recalled. "I'd go for long walks and dialogue and chapters would start unfolding, so I just started writing it down."
Still, the hardest part was the filming. One day, Simmons's anxiety got to the point where, while driving alone on her way to shoot a scene full of "ridiculous over-40 dancing," she found herself drowning out all the self-doubt in her head by belting out "The Star-Spangled Banner." ("It was really the only thing I could think of at the moment," Simmons said.)
Part of her anxiety stemmed from working in a domain unfamiliar to her. Things got easier when Simmons began to treat filmmaking as another aspect of her art. "You know, the thing about being an artist and making an artwork is that you're never—or at least I'm never—100 percent sure that that work is going to see the light of day," she said. Simmons gestured to the rows and rows of binders of unfinished works high up on the walls of her apartment overlooking the East River, out of reach. "So I dealt with the whole process much more like I was making an artwork than a 'movie' movie."
Even the finished movie, which has the structure, dialogue, and many of the conventions of independent filmmaking, she now considers part of her artistic practice. "I don't want to sound pretentious, but it's another aspect of my work," she said. "It's not like I'm a visual artist and I just stopped for a minute to make a movie—it's really part of everything that I've done, working off the visual language I already have, dipping into what I'm comfortable and familiar with."
Simmons got her start in the '70s photographing dolls and dollhouses, which have the manicured world-making of movie sets, before finding her first major success in the '80s with a series of images featuring objects and guns and perfume bottles atop human legs, which she always imagined dancing. To her, they were motion pictures.
And while her character Ellie's artistic breakthrough in the country does not resemble Simmons's own—coming up with the medium and style of Ellie's work was the hardest part about making the film, she insists—it does attest to Simmons's interest in cinema. As depicted, Ellie's art consists of vignettes painstakingly recreated from films like A Clockwork Orange and Mr. Peabody and the Mermaid, in which Ellie stars as everyone from Marilyn Monroe to Marlene Dietrich.
Early on, Simmons had designs to study film, but she already "felt like I was getting away with murder" just by going to art school. Plus, there was the fact that it felt like an even more male-dominated field than the art world. "Somehow I knew about all these French auteurs and filmmakers like Truffaut and Rohmer, but I didn't know about, you know, Agnès Varda," Simmons said. "There was something about film that just felt so male to me."
It's a feeling she hasn't really let go of since. "As I've aged, and as I'm aging, I find I've become increasingly dissatisfied with the representation of women my age on film—I'm actually floored," said Simmons, who is 67. It's in large part what motivated her to make a film starring a sixty-something woman who still has aspirations and goals for her work, rather than only lamentations about her personal life.
"I've always had a really solid group of women around me, and I feel like I know and understand women's stories, so I really thought that I would be making a movie about female relationships," Simmons went on. But somehow she ended up telling Ellie's story through the three male actors who help her with her work (while she blithely ignores their romantic overtures).
"My big surprise is that I wrote so much about men in this story," she added.
Then again, Simmons said, "I really like men, and I always have." She laughed. "Even in my hardcore feminist days, I kind of had to pretend to be a man-hater."
Related: Inside Laurie Simmons's 2015 Exhibition "How We See" at the Jewish Museum
See Laura Dern, Naomi Watts, Patricia Arquette, and Hailey Gates Open Up About Working with Legendary Director David Lynch: