Meet Lea Colombo
In his new column Talent Scout, Dorian Grinspan highlights this South Africa native who is taking on the French photography scene.
---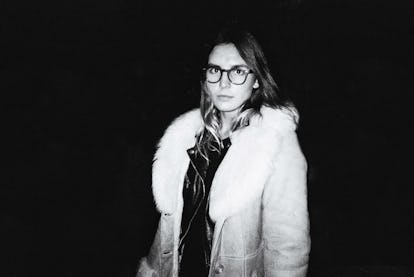 A self-taught photographer from Cape Town, South Africa Lea Colombo, 20, moved to Paris a year and half ago and has since shot for the likes of Dazed and Confused, Elle UK, and Elle China. The young photographer, whose pictures first caught my attention when she submitted them to my magazine Out of Order, is well on her way to becoming a creative presence in the fashion world. Despite her hectic schedule, I managed to catch up with her at a busy café in the Marais to discuss her not-so-long ago beginnings, and the longer road ahead.
Tell me about how you got interested in photograph. I always had an interest in images, especially fashion images in magazines. I actually got injured when I was younger; I couldn't do much so I picked up a camera and started taking pictures of whatever was around me. That developed into shooting friends, landscapes, my travels. I thought, 'This is something I really enjoy doing'—and I took it from there.
The first editorial you ever showed me was shot in Cape Town, right? How is it getting access to designers and models there? There are a few up-and-coming designers that are doing great stuff, but in terms of more established brands or finding good models, it can be tricky. You have amazing locations and light, but really lack the rest.
Why did you move to Paris? To be very honest, this guy I was seeing sent me a plane ticket [laughs]. I took it as an opportunity to work, too. It was only for one week, but I met so many great people. After I returned to Cape Town, everything told me to go straight back to Paris.
Is it difficult for a young photographer to find jobs in Paris? I think so—from what I've heard. [laughs]
What's your secret? I don't know, honestly. It's been really amazing.
But you had to start somewhere. How did you first get your work there? When I first came back to Paris, I did a bit of assisting for a few months while shooting little things on the side. And then I actually got offered to shoot backstage at the runway shows for Dazed, and from there everything just kind of happened. I've actually only been shooting editorial work since last August.
How do you feel about shooting backstage? You have to mentally prepare yourself because it's quite hectic—you're working with top models and the most perfect hair and make-up, and you're shooting the collections. You don't always have the best conditions but I like to use that and try to make something of it, to capture the atmosphere.
How do you make your pictures stand out from those of the other photographers backstage? I just try and capture the mood. I also never shoot flash, only natural light—and I think that makes a bit of a difference. I must say, by working backstage I've gotten so much more editorial work. Magazines contact me to shoot editorials because they love my backstage work.
Would you recommend young photographers shoot backstage? Yeah, I definitely think so. I think that if people have an eye for it, why not? I enjoy it.
A lot of your photography seems to be focused on men. Can you tell me about your experience shooting men versus women? With women's fashion, there's a lot that has been done, but with men's there's room to try out new things and push the boundaries. I also find working with boys very easy. Are there photographers you are particularly inspired by? I'm very inspired by the work done during the late '90s, by the likes of Mario Sorrenti, Craig McDean, Nick Knight, and David Sims. And seeing how people work is always very inspiring. I wouldn't want to go back to school, though. I would rather learn from people.
Does it scare you a bit to never have gone to university? I don't know. I think school can contribute to your life, obviously. But with photography, no one is looking at your degree—they're going to look at the work.
Meet Lea Colombo: The Photos
Photograph by Lea Colombo
Photograph by Lea Colombo
Photograph by Lea Colombo
Photograph by Lea Colombo
Photograph by Lea Colombo
Photograph by Lea Colombo
Dries van Noten Spring 2014
Photograph by Lea Colombo
Photograph by Lea Colombo
Photograph by Lea Colombo
Photograph by Lea Colombo
Photograph by Lea Colombo
Photograph by Lea Colombo