LED Forests! Underwear Chandeliers! And More Instagrammable Imaginations From Pipilotti Rist
The Swiss artist is lighting up feeds with her dreamy survey at the New Museum in New York.
---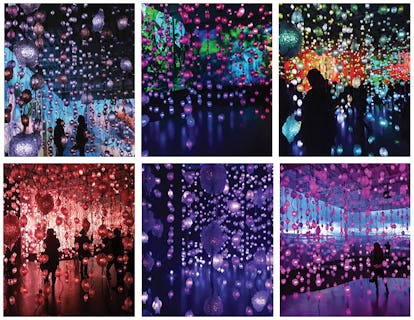 Clockwise from top left: photos via @xxmint, @gabriellalevine, @donasaur, @artzealous, @artofchoice_, and @artsy.
While even Beyoncé has taken note of Pipilotti Rist's experimental videos — "Lemonade"'s most memorable sequence was a direct reference to one of the Swiss artist's 1997 films — it's only now, three decades of eye-catching work later, that Rist is getting her first-ever comprehensive survey in New York. Open this week, "Pipilotti Rist: Pixel Forest" is definitely making up for that oversight: spanning three floors of the New Museum, it's an all-immersive experience complete with ceiling projections of scenes filmed underwater and wall-to-wall screens of footage taken with everything from spy cameras to endoscopes. Among the installations are also an illuminated chandelier made of underwear; a forest of 3,000 hanging, LED-lit pieces of plastic; and even king-sized beds outfitted with pillows for visitors to take it all in.