BEAUTIFUL PEOPLE OF SEOUL
Meet Lee Sung-Kyung, South Korea's Answer to Gigi Hadid
With over 5 million followers, the 26-year-old model-turned-actress is a sensation on television, with more than 10 percent of the country following her every move.
Photographs by Yoo Youngkyu
---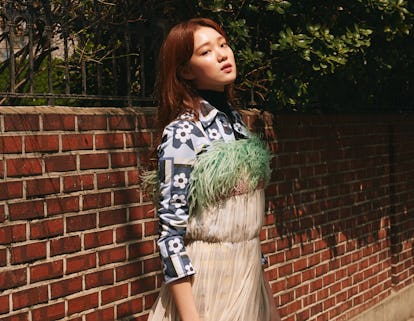 Photo by Youngkyu Yoo, Sittings Editor: Fwanwook Jung. Visual Editor: Biel Parklee.
If you don't know the name Lee Sung-Kyung, you're not alone, especially if you live in America. But in South Korea, the Seoul-bred 26-year-old is a television and social media sensation, with 5.5 million followers on Instagram alone.
To put her celebrity into perspective, in a country of some 50 million people, more than ten percent of the country is following her. That would make her proportionally right on par with Gigi Hadid's following in America.
A couple of months after her hit TV show Weightlifting Fairy Kim Bok Joo ended, Lee was at a studio in Garosu-gil in Seoul for a photo shoot. The set was buzzing with flunkies, including two personal stylists and two managers, plus personal assistants, but Lee was unfazed in the middle of it all.Bubbly and in good spirits, she was laughing with the makeup artist between outfit changes and trolling Instagram.
"Sure it's the official Instagram, but I still consider it my personal album," she said coyly through a translator.
Lee's rise to fame is a quintessential Cinderella story, the definition of an overnight celebrity. In 2014, Korean director Kim Kyu-tae was casting his new television drama series, It's Okay That's Love, looking for a fresh face for one of the roles.
Lee was a successful model at the time, and the director's teenage daughter had been a fan of hers for some time. When the girl showed him Lee's Instagram page, he was immediately sold.
"It was magic that it just happened like that," Lee told me over a cup of coffee. "It was total fate."
In It's Okay That's Love, a 16-episode series that aired on Korea's biggest network SBS, Lee was cast as a familiar archetype, the rebellious high school dropout, but she made it entirely her own and cliche-free. From there she built a diehard following and the roles started to flood in, beginning with the television series Cheese in the Trap in 2015, when she played a mentally unstable college student, and later in Doctor Crush, another series where she played a high school student vying for the attention of her biology teacher.
In 2016 she landed her first titular role in Weightlifting Fairy Kim Bok Joo, a coming-of-age TV sports drama, for which she was recognized with two MBC Drama Awards, South Korea's version of the Emmys.
A few episodes into its run last year, Lee was a bona fide celebrity, and she had managed it with relatively few credits and no formal acting background. After it wrapped in January, Lee took her first solo trip, and purposely booked a flight to Paris where she knew no one would recognize her.
"That time in Paris was really healing, it brought me back," she said. "Being in the public eye, you never really have time to yourself. Even when you're alone, you feel that everyone is watching you and you can't ever get away from them."
Unlike almost all celebrities, Lee does not post any promotional content on social media and takes most of her photos on 32mm film, which are snapped by close friends rather than professional photographers.
But fame has taken its personal toll. Lee says she spends much more time indoors than she did before, and won't leave the house without a low fitting baseball cap.
"Because there are possibilities of getting involved in scandals and rumors, I'm more cautious about what I do now," she said.
And the boyfriend situation? "Impossible," she said, sounding resigned. And anyway, she't not really interested in love.
"There have been rumors associating me with relationships I've never been in. I feel as though I've been through those relationships already so I don't have to go through them again," she said, laughing with her translator at the thought.
For 2017, Lee's big plan is to make the transition to film, and she is waiting to confirm her first feature. "The film will change my life a lot, but it will be a new platform to show myself."
So does she lead any semblance of a normal life? She certainly tries.
When she's not filming Lee plays classical piano, a hobby she's enjoyed since childhood, and travels more than ever, although the anonymity is fading. On a recent trip to Los Angeles, she visited Universal Studios and people called her out.
"People recognized me there! They saw me and shouted 'Hey, Weightlifting Fairy!' I couldn't believe it."
Watch Kendall Jenner, Performance Artist, Channels Icons Like Marina Abramovic and Yoko Ono
From Toddlers to K-Pop Stars, Seoul Fashion Week Takes Street Style to the Next Level