Legendary Hairstylist Sam McKnight Predicts the Hair Trends of 2017
The man who's styled everyone from Lady Di to Lady Gaga says we can look forward to more curls, diversity and doing your own thing in the new year. So, at least there's that.
---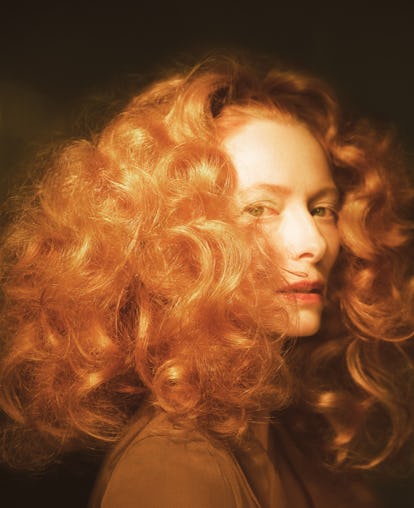 Tilda Swinton in Hair by Sam McKnight. Courtesy Somerset House and Rizzoli.
If there's one thing to celebrate in 2017, it's yourself and what you're made of.
The legendary hairstylist Sam McKnight certainly thinks so. And if you've got curls, even better. "Curls have definitely had a moment and they'll continue to in 2017." He said this on Tuesday night at the Chanel store in Soho, where he was kicking off the release of his Rizzoli book Hair by Sam McKnight, which highlights the best and most daring looks from his 40-year career in beauty. "We've had restricted, straight hair for so long," he continued. "That I think the freedom of curls represents the opposite end of the pendulum. And it's about time!"
McKnight began his career as an assistant for a local hairdresser in his home country of Scotland, eventually moving to London and then New York to work on fashion editorials; Chanel, Balmain, Burberry, and Tom Ford are a few of the many notable brands he's styled for over the years, plus A-list clients including Kate Moss, Linda Evangelista, Kendall Jenner, Tilda Swinton, and Lady Gaga. One of his most notable gigs, however, was personally for Princess Diana after he gave her an iconic up-do on the cover of Vogue in 1990.
This Is the Man Who Coiffed Everyone From Princess Di to Tilda Swinton
Kate Moss by Nick Knight, Vogue UK, September 2000. Courtesy of Nick Knight.
Gisele Bundchen © Alexei Hay, Trunk Archive.
Tilda Swinton, Vogue Italia, February 2003 © Craig McDean, Courtesy Art + Commerce.
Karlie Kloss for British Vogue, November 2015. Photograph by Patrick Demarchelier.
Kate Moss by Patrick Demarchelier © The Condé Nast Publications Ltd.
Tilda Swinton in Hair by Sam McKnight. Courtesy Somerset House and Rizzoli.
This year, McKnight poured much of his energy into Chanel shows. "It's been a good year for Chanel hair," he said. "The frizzy curls we did for the couture show in the spring were great. And the most recent Chanel show we just did at the Ritz was fantastic. We had a ball and it was lovely. Plus, the Chanel show in Cuba. They were all so different."
Looking ahead at the new year, in addition to frizzy curls McKnight encourages us to let our freak flags fly. "I think we're going to see much more diversity in 2017," he said. "Much more of people doing their own thing. The trend is: Take whatever you want and make it great."