Lena Dunham Takes the High Ground
In case you missed it, here are the best style news stories of the week.
---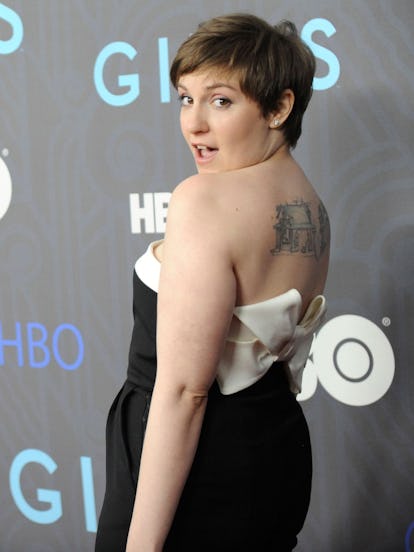 American Apparel Debuted mannequins with an abundant forest of pubic hair. Because the company's founder Dov Charney's preferences weren't well known enough.
Banks, Tyra Admits that she's too busy to have a baby, attend Harvard, and smize at the same time. So much for multitasking.
Cyrus, Miley Gets a bowl cut, stops the presses.
Dunham, Lena Was offered $10,000 by Jezebel to reveal unretouched photographs from her Vogue cover shoot. Took the high ground by tweeting, "Some shit is just too ridiculous to engage. Let's use our energy wisely, 2014." Amen.
Elite Models Ordered to give unpaid interns a total of $450,000—aka what client Cara Delevingne earns in her sleep.
Ferreira, Sky Is the new—and shockingly brunette—face of Redken. Everything truly is embarrassing.
H&M Launches denim line made out of recycled fabric. Remember to wash before wearing.
Harrods Will be trading live alligators for animal prints by closing the department store's animal kingdom to make room for more womenswear.
Heard, Amber Wears a ring; starts rumors that Johnny Depp popped the big question.
Kardashian, Kim Apparently surprised the blogosphere with the news that she has been photoshopping her Instagram photos. Let's all say it together: Of course she was.
Kim, Eugenia The hat designer finally launched a shoe collection, allowing fans to wear her pieces from head to toe.
Moss, Kate Turned 40; gave us an excuse to journey down memory lane. (Thank you for that.)
Olsen, Ashley Back on the market after breaking up with boyfriend David Schulte. Hey there bachelors.
Obama, Michelle Plans to join the GOOP school of fitness by doing more yoga this year.
Paradis, Vanessa Got a perm; was sick of resembling Amber Heard.
Prince Harry Refuses to remove his beard, despite his grandmother's wishes. Proves that the Brooklyn beard really has become mainstream.
Saunders, Jonathan May be the new designer for Paul Smith's womenswear line. Hello, stripes.