Lena Dunham, Meryl Streep, Amy Schumer, Jennifer Lawrence and More Narrate Video About Planned Parenthood's Essential Legacy
Hari Nef, Mindy Kaling, America Ferrera and J.J. Abrams also pitched in to celebrate Planned Parenthood's 100th anniversary.
---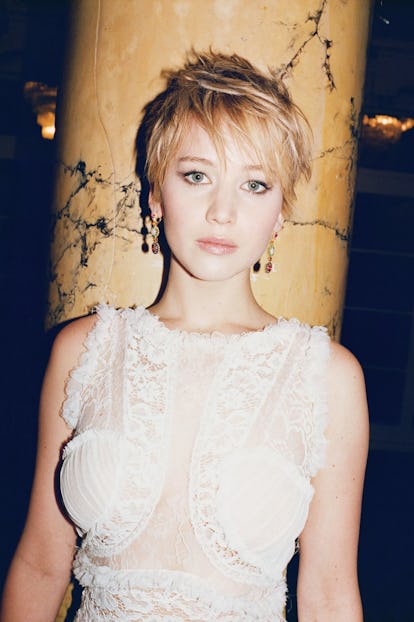 Photographer: Juergen Teller Stylist: Edward Enninful
With Donald Trump's inauguration mere days away, Planned Parenthood is facing a dire threat in the GOP's proposed massive defunding. It's essential now more than ever to realize the integral role the organization plays in women's health, and a new, celebrity-packed video has arrived to do just that.
Planned Parenthood is turning 100, so Lena Dunham made an animated short film to celebrate the centennial. "100 Years" examines the incredible legacy of Planned Parenthood, from the risk of imprisonment founder Margaret Sanger undertook to form the organization to the work done by subsequent presidents like Faye Wattleton and current president Cecile Richards in expanding the movement so that it is truly inclusive of all women.
The video doesn't turn a blind eye to the dark moments in Planned Parenthood's history, such as Sanger's embrace of the racist and ableist eugenics movement. Instead, "100 Years" celebrates Planned Parenthood as the complicated but necessary force it is, one without which women's reproductive rights would be vaguely defined and under-protected.
A host of famous Planned Parenthood supporters turned out to helped Dunham narrate the video, including Meryl Streep, Amy Schumer, Jennifer Lawrence, Hari Nef, Tessa Thompson, Mindy Kaling, America Ferrera, Gina Rodriguez, Constance Wu, and Sasheer Zamata. Dunham's boyfriend Jack Antonoff also pitched in on the music, while J.J. Abrams executive-produced the project.
Despite the battles that lie ahead, the video ends with a commitment to Planned Parenthood's project for the future. Richards caps off "100 Years" with the statement, "In our first 100 years, Planned Parenthood established what reproductive rights are and why they're so critically important. In the next 100, we will keep fighting until we make sure they're available to everyone."
Watch Emma Stone, Natalie Portman and more remix "I Will Survive":