Lena Dunham Made Her Runway Debut at London Fashion Week
Wearing a leather-topped, one-sleeve cocktail dress.
---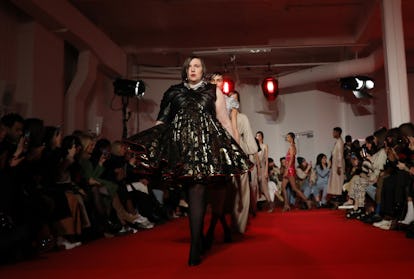 Getty Images
Step aside, Miley Cyrus. On Friday, just two days after Cyrus made a surprise appearance on the runway at Marc Jacobs, Lena Dunham upstaged her by leading the finale at 16Arlington, one of the first fall 2020 shows of London Fashion Week. Named after the address of their first studio in London, the designers Federica Cavenati and Marco Capaldo launched their label in September 2017. It's been racking up celebrity fans—Lady Gaga, Jennifer Lopez, and Lizzo among them—ever since, and was behind Dunham's eye-catching red marabou and orange sequined ensemble at Once Upon a Time…in Hollywood's London premiere last year.
Dunham announced that she would be getting to "experience" London Fashion Week earlier this week, though no one seems to have expected that she'd make her first-ever runway appearance. "While I haven't necessarily been hailed as a fashion icon (that's the cute way to put it), I am obsessed with clothes," the 33-year-old actor-director wrote on Instagram. "As our chosen leader Rihanna once said, 'I actually have had the pleasure of a fluctuating body type,' and that doesn't always lend itself to the doors of fashion opening wide," she continued. "People have a lot of rules about how girls with flesh should dress (and, let's be real, rules about how every type of woman should dress—it's exhausting)."
But there have been "some incredible and warmly inclusive designers" who've made looks for Dunham and, as she put it, her "Spanx free stomach, which is almost as wide as my hips because that's one way a woman's body can look." She cited 16Arlington as among those designers—as well as quite a few houses it's almost impossible to imagine dressing Dunham today. (Hedi Slimane dressed her for the Time 100 Gala, and Prada for the Emmy Awards, once—circa when Dunham, who has been vocal about how much happier she's been since gaining weight, was experiencing "impossible pain" related to her body image.)
Dunham has done her fair share of modeling, booking lingerie and swimwear campaigns, but it wasn't until Friday that she took on the runway, wearing a leather-topped, one-sleeve cocktail dress. "For us it's about working with women who really inspire us on a daily basis, and what sets these girls apart is that they're all doing something positive in the world and changing it for the better," Capaldo told the Evening Standard backstage. "She's really passionate about fashion but has fun with it—and that's how we feel about it too," he said of Dunham, adding that they also share a love of dogs.
Related: How Did Lena Dunham End Up in So Much Drama Over Sweatshirts?
From Tiny Furniture to Girls, Lena Dunham Has Always Been Game to Experiment on the Red Carpet
Dunham wore a black feathered capelet for her first Gotham Awards, where Tiny Furniture was nominated, in New York, November 2010.

Dimitrios Kambouris/Getty Images
She wore a mustard slip with black accents for the Los Angeles Film Critics Association Awards in Century City, California, January 2011.

Dr. Billy Ingram/Getty Images
In one of her most classically formal looks to date, Dunham wore a strapless black gown with silver detailing and a sweetheart neckline for the premiere of Girls with the Cinema Society in New York, New York, April 2012.

Dimitrios Kambouris/Getty Images
She selected a forest-green Wes Gordon look for the Metropolitan Museum of Art Costume Institute Gala for Schiaparelli and Prada: Impossible Conversations in New York, New York, May 2012.

Dimitrios Kambouris/Getty Images
For that year's Emmy Awards, it was a midnight lace Prada gown with short sleeves, a more staid and elegant look than others, in Los Angeles, California, September 2012.

Jason Merritt/Getty Images
Dunham continued to take on the fashion world in a Valentino jumpsuit, getting ahead of the formal jumpsuit trend, at the premiere of Girls season two in New York, New York, January 2013.

Charles Eshelman/Getty Images
In eggplant silk Zac Posen, Dunham's smoky eye was the centerpiece of the look at the Golden Globe awards in Beverly Hills, California, January 2013.

Jeff Vespa/Getty Images
Dunham embraced her inner punk in Erdem for the Metropolitan Museum of Art Costume Institute Gala for Punk: Chaos to Couture in New York, New York, May 2013.

Rabbani and Solimene Photography/Getty Images
Once again in Prada, Dunham's strikingly exaggerated silhouette only competes with the boldness of the print adorning the dress. Here, she appears at the Emmy Awards in Los Angeles, California, September 2013.

CBS Photo Archive/Getty Images
Dunham returns to Zac Posen in a lemon-yellow mermaid gown for the Golden Globe awards in Beverly Hills, California, January 2014.

Steve Granitz/Getty Images
Dunham accompanied designer Giambattista Valli to the Metropolitan Museum of Art Costume Institute Gala for Charles James: Beyond Fashion — and naturally, she wore a Valli design, in New York, New York, May 2014.

George Pimentel/Getty Images
In one of her more outlandish looks to date, another Giambattista Valli look complete with a platinum-blonde bob, Dunham reminded us she's not taking herself too seriously at the Emmy Awards in Los Angeles, California, September 2014.

Frazer Harrison/Getty Images
Then, costar Andrew Rannells on her arm, Dunham arrived wearing Zac Posen at the Golden Globe awards in Beverly Hills, California, January 2015.

Frazer Harrison/Getty Images
Dunham selected a look from cult-favorite designer Simone Rocha — a bouclé green coat with a floral silk dress, paired with black boots — for the Hollywood Reporter's 35 Most Powerful People in New York Media event in New York, New York, April 2016.

Dimitrios Kambouris/Getty Images
Dunham twinned (or tripleted?) with friends Jenna Lyons, the designer formerly behind J. Crew, and Jenni Konner, all wearing Lyons's trademark heavy black frames, for the Metropolitan Museum of Art Costume Institute Gala for Manus x Machina in New York, New York, May 2016.

Taylor Hill/Getty Images
Dunham wore a crisp white Gabriela Hearst dress to speak alongside America Ferrera at the Democratic National Convention in Philadelphia, Pennsylvania, July 2016.

Aaron P. Bernstein/Getty Images
Dunham paired an already statement-y vintage Todd Oldham look with dark magenta-rimmed eyes for the premiere of the final season of Girls in New York, New York, February 2017.

J. Countess/Getty Images