Lena Dunham Is Selling Her Wardrobe for Charity
Proceeds will go to Planned Parenthood.
---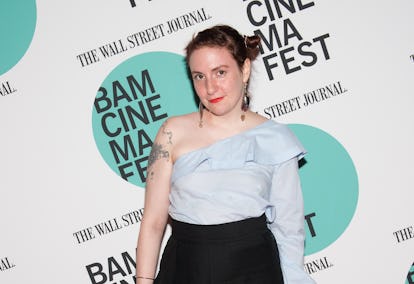 Photo by Noam Galai/WireImage/Getty Images
Lena Dunham will be auctioning off the contents of her closet — and the proceeds of the sales will benefit Planned Parenthood. The New York Times reports that the 31-year-old actress will be listing 169 pieces from her wardrobe at the online consignment shop the RealReal, beginning on Monday.
While the RealReal takes a 30 percent cut of every sale, Dunham will be donating the entirety of her 70 percent profit to the Planned Parenthood Federation of America. The decision, she explained, came from a need to let go of the physical pieces that were simply not worth holding on to for the sake of memory. Dunham told The New York Times, "I realized I had been carrying around a lot of crap, both internally and externally." She continued, "I always thought I was going to hoard all my clothes for my future daughter, and now I understand, especially being a woman with a reproductive illness, I may end up with an adopted son, I may end up with a daughter who doesn't identify with her gender at birth. You can't live for the future that does not yet exist. I have to take all this good fashion fortune I've had and spread it."
Dunham's clothing selection runs the gamut: There are epic red-carpet dresses, once-favorite vintage tees from off-duty days, and even items once worn on screen by her Girls character, Hannah Horvath. The sale is not only special because of its charitable nod but also for its personalized touch, as each item will come with a letter from Dunham explaining the item's provenance and significance. Some even come with the same sentiment from the designer him- or herself. The Times used her 2013 Golden Globes gown by Zac Posen as an example, writing, "Buy the Zac Posen gown she wore to the 2013 Golden Globes and you will hear about how she hyperventilated while wearing it, and had to be removed from it by Glenn Close and a pair of nail scissors."
The pieces range in size from a 4 to a 12 and up. Prices begin at $35 (for ASOS pumps) and rise up to nearly $4,000 (for her Elizabeth Kennedy Met Gala gown from this past year). A longtime supporter of women's rights, including the work of Planned Parenthood, Dunham told The Times that "It's a very, very challenging moment to be a woman in America. Planned Parenthood's never been more essential. The work that I've done with them has really become front and center to my life, really as important to me as my art in a lot of ways."
Shop Lena Dunham's nearly-sold-out closet on the RealReal right here.
Related: Somehow, This Feud Between Lena Dunham and a Brooklyn Dog Shelter Employee Is Escalating
See What's Trending on W Video: