Lena Dunham Recognizes Her Privilege Got Her Where She Is Today
In a series of tweets, Lena Dunham addressed the ways in which her whiteness launched her career at an early age.
---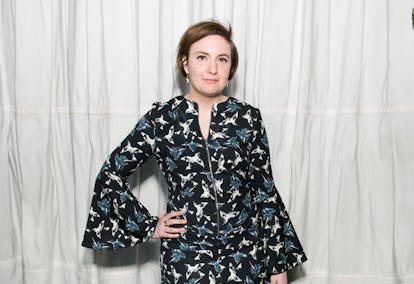 Noam Galai/Getty Images
Lena Dunham wears many hats—she's a writer, a director, an actor. She's also been called a poster child for white privilege.
In many ways that is true—there are plenty of examples that reflect Dunham's privilege as a white millennial woman, whether that be in how she satirized herself and other white New York twentysomethings like her in the HBO series Girls, or in the fact that the show, which was set in Bushwick, hardly ever featured people of color (a creative decision Dunham tried to correct by casting Donald Glover to appear in a couple of episodes as a Black Republican, though the plan ultimately backfired).
Dunham has made a lot of blunders as a public figure who has not always weaponized her privilege to dismantle the structures that provided her with an upper hand in the first place, and she's reconciling with those mistakes in an era where it would be socially irresponsible to deny that the privileges of growing up in SoHo as the daughter of two prominent artists and building connections in childhood would later position her for Hollywood success.
"Whenever I find out I'm trending, I have to immediately check if I'm alive!" she joked on Twitter, at the start of a thread about her white privilege. "Then, I try and see if there's a constructive dialogue to have on Twitter."
Dunham was referring to an old tweet linking to a story in The Hollywood Reporter, which included the page-and-a-half long pitch the young writer sent to HBO when she sold Girls at 23 years old. The three-year-old tweet made the rounds as many people of color called out the advantages that afforded Dunham not only the boldness to pitch a full series with just one page to a group of executives, but the Hollywood connections to actually get the show made. (Most television series pitches involve outlining multiple episode arcs, character development, and providing an overall "show bible" which places the overall direction of the series into one easy-to-read package.)
It should be noted that at the time she sold the pilot of Girls to HBO, Dunham's film Tiny Furniture had premiered at SXSW and received critical acclaim, positioning her as an up-and-comer to watch, but it still was not solely the talent on display in her film that got her in the door.
"It actually wasn't a dialogue – it was just me agreeing that the Hollywood system is rigged in favor of white people and that my career took off at a young age with relative ease, ease I wasn't able to recognize because I also didn't know what privilege was," she continued with her thread. "The past ten years have been a series of lessons. The lesson now? Sit down. Shut up, unless it's to advocate for change for Black people. Listen. Make art in private for awhile- no one needs your book right now lady. Give reparations widely. Defund the police. Rinse & repeat."
In response to some now-deleted tweets in the thread on the THR story about her Girls pitch, other writers of color like Travon Free, echoed that the level of work expected from a budding Black writer pitching a show is far more than what is often expected of a budding white writer, and Dunham came to his defense. "I watched Travon's incredibly cool and original show pitch get reworked and reworked in pergatory and I also know how much he's had to fight to be where he is. I never fought that fight. Making some indie movies and web shows is not equal to the fight," she wrote.
"The fact is plenty of people had the talent, drive and focus I had. My whiteness opened doors and made my vision palatable for the mainstream," Dunham wrote. "It took me a long time to understand and digest that as Black critics and thinkers patiently explained. It's blindingly clear to me now things I love to write about- bad behavior etc- are allowed & welcomed because of my race and privilege and het cisness. the goal now is to use my platform to support emerging Black artists, BIPOC artists, LGBTQ artists," she continued.
She also publicly pledged to hold herself and her production company accountable for using that platform to support those who do not have the privileges she grew up accustomed to having: "In coming months my company will share mandate on how we are holding ourselves accountable- Good Thing Going must be a boat steered by those who have historically been left out of the narrative."
Related: Lena Dunham Made Her Runway Debut at London Fashion Week