Lenny Kravitz Has Been Experimenting With Style Since Day One
The musician and writer recalls his mother's fashion tips, and how she refused to meet baby Zoë Kravitz in a drab outfit.
Photographs by Lenny Kravitz
---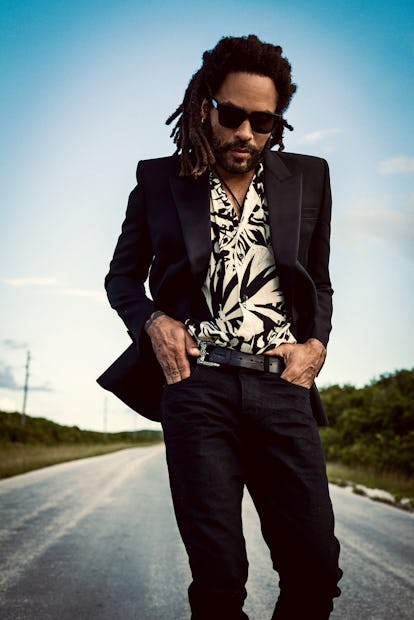 For our annual "The Originals" portfolio, we asked creatives—pioneers in the fields of art, design, fashion, comedy, activism and more—to share their insights on staying true to themselves and pushing the creative envelope in a chaotic year. Read all the Q+As from this year's group here.
In your new memoir, Let Love Rule, which covers the first 25 years of your life, music and style are at the forefront. Almost from birth, you were supremely passionate and confident about both your appearance and your sound. There is an anecdote where you say you once received a $5,000 advance, and instead of paying your bills, you went to Maxfield and bought a Yohji Yamamoto maxicoat and a Nehru suit by Jean Paul Gaultier. Do you still have the suit?
No, sadly, I let a friend borrow it. Look, I was a little younger then. I wanted to get my image together, and I was lusting after those clothes. I knew there was something special and interesting about those designers, and I wanted to have them step into my world.
Your mother, Roxie Roker, was quite stylish. And two of your godmothers, Diahann Carroll and Cicely Tyson, are fashion icons and true originals.
My mother was all about the details. She had that discipline—you don't "sort of" finish a task; you finish it properly and go on to the next. I wouldn't be here today if it wasn't for the lessons Roxie Roker taught me. She was always perfectly dressed. When my daughter, Zoë, was born, my mother wouldn't meet her granddaughter until she put on a proper outfit. I told her, the child doesn't know. But that was not my mother; she always wanted to look great. And she did. Being around that kind of elegance and grace had a lasting impact on me.
Your mother was also tolerant of your sartorial eccentricities. At one point in high school, you were leaving the house in a skirt.
I was going out with my friends, and my then-girlfriend had made the skirt. We always went to gay clubs, because the music was great. So here's the straight guy putting on the skirt. My friends were convinced that my mom would not be able to handle this look. Instead, she gave me a hard stare and said, "Child, those shoes aren't working with that skirt. You've got to coordinate." I immediately changed my shoes.
You were also a fan of The Rocky Horror Picture Show and the band Kiss.
I have a very nerdy side. In elementary school, I went in full Gene Simmons makeup, costume, and boots for Halloween. It's amazing that I didn't care what people at my school thought of me. Most of my friends were gay, but I was secure with my masculinity, or whatever you want to call it.
How did you get involved with Saint Laurent?
I've always been a friend of the house. A lot of their designs are like things I wore in the early days of my career. When I was starting out, everything I wore was vintage, and now it's as if Saint Laurent has gone through my closet and cleaned up and modernized all my clothes. My daughter, Zoë, began working with the brand years ago, and they eventually found their way to me. I love the fact that Zoë was there first. I like to follow in my daughter's footsteps.
You are the first father and daughter to be the face of the same fashion house.
Really! Well, truly, I can't compete with Zoë. She has amazing style—effortless.
Who are your other style icons? Who is an original to you?
Jimi Hendrix. Prince. Miles Davis. David Bowie. Janis Joplin. And my own mother. All of those people broke through walls.
You have spent the quarantine months in your home in the Bahamas. Did you find yourself wearing sweatpants?
I've been here for seven months, and that's the longest time I've spent in one place my entire life. The world is suffering, and I'm terribly sad about that, but being here has been quite grounding for me. I was only supposed to be here for a week before heading to Australia for the continuation of my tour, so I only had one suitcase. I had just filmed the Saint Laurent campaign, and I also had some of those beautiful clothes. As the days went on, I found myself wearing different things than usual, but I always go back to a nice shirt and a pair of Saint Laurent pants. I like to feel like myself.
Related: The Originals: 19 Creatives Who Transcend Categorization