Behind the Scenes at the Tony Awards with Leona Lewis
As Andrew Lloyd Webber's Tony Awards date and the star of the revival of his classic musical Cats, singer Leona Lewis doubles down on Broadway.
---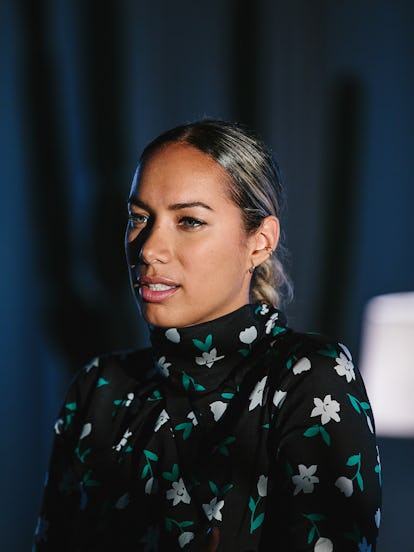 Leona Lewis recently moved into a new apartment. On the 58th floor of a high-rise in Manhattan's theater district, her view spans the whole city skyline; she keeps a pair of binoculars on the dining room table to watch the Hudson River three blocks west.
Lewis, 31, was born and raised in London, but following her X-Factor Season 3 win she relocated to Los Angeles — until last month, when she got a call from theater baron Andrew Lloyd Webber asking if she might be interested in auditioning for the upcoming revival of Cats, his musical based on the poetry of T.S. Eliot. Suddenly, she was headed for New York, shopping for real estate and preparing for her Broadway debut as Grizabella, the role originated by Elaine Page.
And though she and Webber hadn't met before he approached her, she's quickly entered into his fold. On Saturday morning, they recorded the Cats track "Memory" together, and Sunday, she will attend the 70th annual Tony Awards as his date.
She explained all of this from her dining room on Friday evening, where she and her manager Nicola Carson, stylist Rebecca Grice, and a diminutive tailor named Olga armed with safety pins congregated to discuss and try on gown options for Sunday night's event. She had just finished her second week of rehearsals for Cats — which will go into previews July 14 — and she wore a long-sleeved floral Carolina Herrera gown, one of the early frontrunners.
Two garment racks also occupied the room, hung with dresses including a mossy grey-green Alexander McQueen, a pair from Sophie Theallet in fiery red and sky blue, options from Roberto Cavalli and Lanvin, and a suit by Tom Ford among all the long skirts. This has all come together rather quickly — she decided to attend the Tonys just four days prior, two of which were spent at the CMT Music Awards in Nashville. The dresses arrived around 7 p.m., and it was now approaching 8.
"Time is money," Grice repeated periodically throughout the night. These were ladies on a deadline, and there were gowns to deliberate.
Though Lewis is arguably best known for the infectious, Ryan Tedder-penned 2008 hit "Bleeding Love," she cut her teeth as a theater kid, appearing in a West End production of Carousel. Cats, she said, was the first production she saw as a child — it premiered in London in 1981 and ran 21 years, debuting on Broadway in 1982 and running 18 years here. That makes it the fourth-longest running musical in Broadway history. Its revival also means that Webber will once again have three musicals running simultaneously on Broadway — the other two are School of Rock: The Musical and The Phantom of the Opera.
Lewis's casting doesn't come without its share of controversy, though — she replaces X-Factor judge and one-time Pussycat Doll Nicole Scherzinger, who dropped out in early May, in the principal role of Grizabella. (Scherzinger was nominated for an Olivier Award for her performance in the London revival.) More recently, original choreographer Gillian Lynne expressed her displeasure that Hamilton choreographer Andy Blankenbuehler had been brought on board, according to The Stage.
But this hasn't marred the production, Lewis said — "As well as keeping it authentic to what it is, we're also injecting now into it, the present. Andy's injecting a bit of his own imagination into it as well, so it is getting a little bit of a fresh spin." That said, Webber remains "very hands-on" and director Trevor Nunn will reprise his role helming the production, adding to the authenticity of the revival. Lewis herself was bright and optimistic, excited at the prospect of digging into a role night after night (and working day after day — "to actually have a set regimen … it's cool," she said).
Back at the fitting, Amy Winehouse played over the stereo as Lewis retreated to her room to try on several more options. When she reemerged, she wore a deep purple lace J. Mendel gown.
"It's very goddess," Carson said, snapping a couple of iPhone photos. "How do you feel in it?"
"I like it, I don't love it," Lewis replied. She gave it a bit of a twirl back and forth, fluttering her arms to check out the fabric in motion in the mirror in front of her. She tends towards body-con silhouettes, she explained later, though she has recently opted for something "more floaty." (At this, Grice cheered — "Some different silhouettes," she said with a little dance.)
"The Tonys can be a sparkle explosion," Grice said. "I think kind of understated and stripped back is cool." Grice tends towards minimalism, thus many of their options are solid-colored, classic silhouettes. Her clients also include the Haim sisters and Lorde; it was after seeing their red carpet looks that Lewis first approached Grice about working together just over a year ago.
Lewis tried out a couple more dresses, but it seemed they had reached the frontrunners — the Herrera and the Mendel, both long-sleeved and elegant, nipped in with a natural waist. Amy Winehouse faded out and Joni Mitchell faded in, while Lewis changed back into a navy jumpsuit. She and Grice perched on the sectional couch occupying most of her living room to caucus. They flipped through Carson's iPhone photos — "Obsessed," Grice said, scrolling. "Love." Another. "We need to remember that color."
They weren't going to make a decision that night, though — after sleeping on it, she decided to go with something else entirely, a sleek, black, bias-cut velvet slip dress by Nili Lotan, accessorized with a Lorraine Schwartz choker and an Edie Parker clutch. But there's always another party.
"It's not like we have to say goodbye to any of them," Grice said during deliberations. After all, Lewis will need a look for Cats premiere night. And then, they might go custom.
Photos: Behind the Scenes at the Tony Awards with Leona Lewis
Produced by Biel Parklee.