Leona Lewis Signs with Wilhelmina Models, Commits to a Cleanse
The singer and newly minted Broadway star is about to have a better 2017 than all of us.
---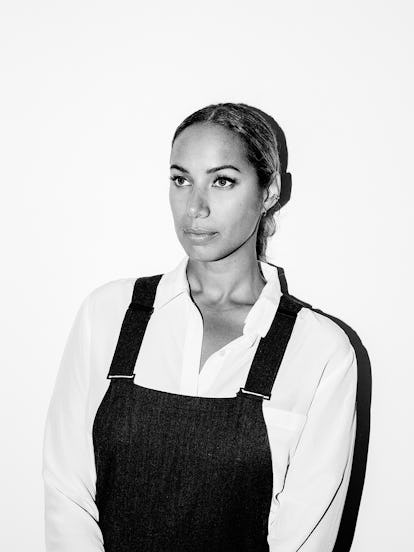 Nathaniel Wood
Leona Lewis is starting the year off with a cleanse.
"My mum's a herbalist," she explained, "so I'm always around lots of natural remedies and natural immune boosters." Her latest recommendation has been a technique called panchakarma, a five-part Ayurveda detox believed to flush out toxins and reboot one's immune system. Plagued with health issues throughout 2016, Lewis has one new year's resolution, and one only: to get her health back on track. "Being healthy and happy," she said. "You can conquer the world with that."
A new health regimen isn't the only way in which Lewis is starting fresh this year: Back in the studio, she's collaborating with artists as diverse as Hans Zimmer and Pitbull while working on her own solo material. And the singer and actress just signed with Wilhelmina Models, the talent agency that also represents Cindy Bruna, RJ King, and, among its celebrity talent, Hopper Penn and Demi Lovato.
I first met Lewis on the eve of her first-ever Tony Awards appearance, where she walked the red carpet in a black velvet Nili Lotan gown, legendary composer Andrew Lloyd Webber on her arm. She was just weeks away from her Broadway debut as Grizabella in Webber's love-it-or-hate-it musical Cats, which began a revival run at the end of July. She had just moved into an apartment in midtown Manhattan, around the corner from the theater district and with an expansive view of the New York City skyline; when we connected earlier this month to discuss her upcoming work with Wilhelmina, she had returned to Los Angeles and missing the winter chill — especially cozy layers and chunky knits. (It was about to snow where I sat in New York.) She now credits her Broadway role with opening up new opportunities for performance—she grew up a theater kid, and returning to the stage whet her taste for creative projects beyond the studio. Ergo, modeling.
Photos: Behind the Scenes at the Tony Awards with Leona Lewis
When Lewis encountered Bill Wackermann, chief executive of Wilhelmina, for the first time last year, "We just hit it off straight away," she recalled. "We had this instant connection." (For his part, Wackermann waxed rhapsodic about his agency's latest signee: "Her voice, her warmth, she has these incredible blue piercing eyes," he wrote in an email. "Once I met her in person, I could understand why people love her so.") It wasn't until this year that the singer decided to make the plunge into modeling — but she skirted around the specifics of her upcoming projects.
"It will kind of unveil itself throughout the year," she said coyly.
The new gig is not a total pivot for the musician, whose roots in fashion extend back to her childhood—"It's always been there," she said. She grew up, the daughter of a Welsh mother and Guyanese father, in London's Islington neighborhood. Her parents owned a chain of womenswear stores across the city; she recalled traveling to Pakistan as a child to scout new fabrics for their designs. Once in a while, they'd let her operate the stud machine in their studio.
And in today's landscape of red carpets and ubiquitous paparazzi, the relationship between musicians and fashion houses has drawn ever closer. Designers like Riccardo Tisci at Givenchy and Marc Jacobs have sought muses among musicians where they might once have eyed supermodels; Adam Selman and Peter Dundas, while working at Roberto Cavalli, have designed tour costumes for artists ranging from Rihanna and Sufjan Stevens (Selman) to Beyoncé (Dundas). A musician like Rihanna, spotted on the streets or on screen in an up-and-coming designer, can launch a career.
Lewis, too, has reaped the benefits of this relationship: During her Tony Awards fitting, she selected from among gowns by Carolina Herrera, Sophie Theallet, Alexander McQueen, a suit by Tom Ford. In her personal life, she favors sustainably minded designers like Stella McCartney and cult Los Angeles retailer The Reformation. She's close friends with London-based wunderkind William Tempest.
"I love the synergy between music and fashion," she explained.
Film and television, too, the whole visual landscape weaves together in her writing. The cover art for the single that catapulted her to international renown, "Bleeding Love," borrowed from an editorial shoot Lewis appeared in in 2008. "I'm quite a visual person when it comes to my music." She has appeared front-row at Marc Jacobs, Adam Selman, and Roberto Cavalli. And she hopes her next stop will be London Fashion Week. With a new modeling contract, new music on the horizon, and the possibility of more stage work, Leona Lewis may just be poised to have the most productive 2017 of us all.
Exclusive: FKA Twigs's Zine For Nike Featuring 12 Unconventional Athletes
Taraji P. Henson Gets Down to "I Will Survive" — With a Few Embellishments
Taraji P. Henson Gets Down to "I Will Survive" — With a Few Embellishments