Leonardo da Vinci's Lost Painting Salvator Mundi to Be Auctioned Off By Christie's
It's believed to be his last one.
---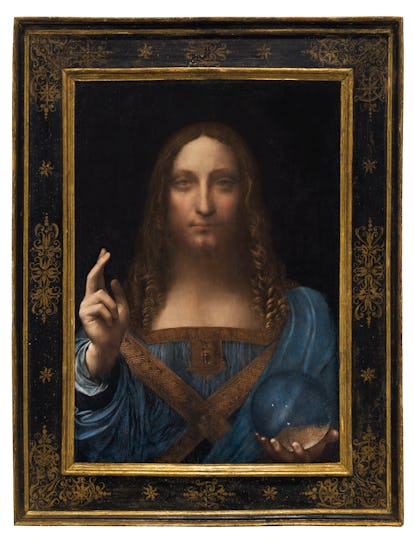 Courtesy of Christie's
Twelve years ago, a once-lost painting by Leonardo da Vinci—possibly his last ever—titled Salvator Mundi was unearthed. Six years later, the painting, which was once a part of the Royal collection of King Charles I and eventually made its way to an American estate sale in 2005, was displayed for the public to view at London's National Gallery in the exhibit, Leonardo da Vinci: Painter at the Court of Milan. Now, the painting will be hung for the public to see once again before it is auctioned off by Christie's.
The painting, which features Christ as Savior of the World and dates to around 1500, isn't just rare because it was thought to have been lost between 1958, when it sold for just £45 by Sotheby's to Sir Charles Robinson for the Cook Collection. (At that time, it was thought that the artist wasn't Leonardo da Vinci but was one of his followers, Bernardino Luini.) It's also rare because it's only one of less than 20 paintings that are known to exist by da Vinci. Also, Salvator Mundi happens to be the only one in private hands, as Christie's points out.
Come November 15, the painting will change hands once again as Christie's auctions it off at Rockefeller Plaza. Estimated at around $100 million, the painting could go for a record-breaking sum. This past May, a painting of a skull by Jean-Michel Basquiat did so when it sold for $110.5 million in a Sotheby's auction, becoming the sixth most expensive work of art to be sold at an auction, as The New York Times reported. Thankfully, for those whose art budgets are more limited, the painting will still be able to be enjoyed by the public ahead of the auction.
Leonardo da Vinci's Salvator Mundi painting is going on a world tour of Christie's flagships, starting October 13 in Hong Kong, where it will stay on view until the 16th. After, the painting will travel to San Francisco to be displayed October 17 to 20. The London location will show the painting next from October 24 to 26. Finally, the painting will be on display in New York, at the Christie's in Rockefeller Plaza, from October 28 to November 4.
The opportunity is indeed a rare one. As Christies' senior specialist Alan Wintermute explained in a press release, "The Salvator Mundi is the Holy Grail of old master paintings. Long-known to have existed, and long-sought after, it seemed just a tantalizingly unobtainable dream until now. To see a fully finished, late masterpiece by Leonardo, made at the peak of his genius, appear for sale in 2017 is as close as I've come to an Art World Miracle. It has been more than a century since the last such painting turned up and this opportunity will not come again in our lifetime. I can hardly convey how exciting it is for those of us directly involved in its sale. The word 'masterpiece' barely begins to convey the rarity, importance and sublime beauty of Leonardo's painting.'"
Of course, also bear in mind: This is a sales pitch by a salesperson, one representing a house that just vastly overestimated the price of a Francis Bacon painting at auction in London last week. With an estimated price of $78.4 million to $104.5 million, the Bacon failed to sell at all. And given the presence of some behind-the-scenes intrigue in the lost da Vinci coming to auction now, it's wise to exercise caution, too.
See what's trending in W video: