The Rumors About Why Leonardo DiCaprio Dropped 'American Psycho' Keep Getting Weirder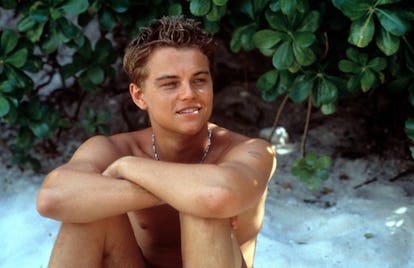 20th Century-Fox/Getty Images
It's a pretty well known piece of movie trivia that Leonardo DiCaprio once almost stepped into a pair of tighty whities and an ice mask to play Patrick Bateman in American Psycho. Though, as the cult film celebrates its 20th anniversary this month, the stories about why that never came to be keep getting weirder and weirder.
After Bret Easton Ellis's novel was published in 1991, the film rights were quickly bought up the next year. Eventually, director Mary Harron (then with the indie hit I Shot Andy Warhol to her credit) and actor Christian Bale (slowly but surely making the transition from former child star to bonafide leading man) were attached. Then, Lionsgate got involved as distributor.
The company wasn't convinced Bale was a big enough star to carry the pic. They identified Edward Norton as a suitable replacement, but, according to a 2000 article in The Guardian, execs sent the script and a $20 million offer to DiCaprio "on a lark." Titanic wasn't even out yet, but the buzz around the film and the box office success of Romeo + Juliet meant Leo-mania was in full swing in Hollywood. To their surprise, DiCaprio was interested. (Although it shouldn't have been that surprising, given the long history of former teen heartthrobs wanting to play serial killers to burnish their image as adult leading men.) The $20 million probably didn't hurt. Ironically, Bale had lost out on the lead in Titanic to DiCaprio as well.
Harron, however, didn't think DiCaprio was right for the role. Not only was he still a little too boyish to play a yuppie investment banker, she also worried that his idol image may bring the wrong type of crowd to the film. "Basically, as soon as I said I didn't want to compromise my position, Lionsgate wanted me out," said Harron. Eventually, DiCaprio drew up his own wishlist of directors (including, reportedly, Martin Scorsese), but Oliver Stone was eventually attached.
In Stone's version of the film, James Woods would have played the part of Donald Kimball (eventually played by Willam Dafoe) while he wanted Cameron Diaz for the part of Bateman's fiancé (which would eventually go to Reese Witherspoon).
For whatever reason, however, both DiCaprio and Stone dropped out. Harron got her film back, and Bale got what would become his star-making turn.
Why, exactly, DiCaprio dropped out remains something of a debated mystery.
Apparently, feminist icon Gloria Steinem may have played a bigger part in it than the public had originally thought.
Steinem found Ellis's original novel offensive to women, and had protested against the project from the start. In an oral history of the film published by Vice, Harron's co-screenwriter Guinevere Turner says that she might have directly intercepted DiCaprio's participation.
"My friend, who had just spoken to Gloria Steinem, said that Gloria Steinem took Leonard DiCaprio to a Yankees game, I believe, and said, 'Please don't do this movie,'" she told Vice. "Coming off of Titanic, there is an entire planet full of 13-year-old girls waiting to see what you do next, and this is going to be a movie that has horrible violence toward women … Soon after that, Leo dropped out, so who knows what really happened?"
What makes that all weirder is that after the film came out, Steinem would become Bale's step-mom. She married his father, environmental activist David Bale later that year, but hadn't yet met him during pre-production.
DiCaprio would instead choose The Beach as his first big post-Titanic project, which seemed baffling at the time, but his career, as you well know, still turned out fine. Bale proved his leading male bonafides, and five years later would be playing Batman. The film still made what one Lionsgate exec called "a tidy profit on the picture." Oh, and Steinem and Bale remain close too.
DiCaprio and Bale have never appeared onscreen together, and this wasn't the last time they'd battle for the same role. However, there doesn't appear to be any hard feelings. DiCaprio was originally attached to star in the 2013 film Out of the Furnace. He dropped out, Bale took the part, but DiCaprio still stayed on as a producer.
Related: A Short History of Disney Boys Playing Serial Killers