Leonardo DiCaprio Wins Big
In case you missed them, here are the top style news stories of the week.
---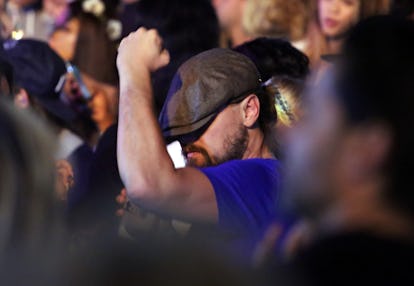 Alaïa, Azzedine The fashion designer is releasing his first fragrance. It's about time!
Balmain Is the newest brand to collaborate on a collection with H&M. Lower priced Balmain model army to follow.
Beckham, Victoria To merge denim collection with her contemporary collection Victoria by Victoria Beckham. How appropriately minimalist.
Choo, Jimmy The footwear company teamed up with Brazilian illustrator Rafael Mantesso on an Instagram-inspired capsule collection.
Crawford, Cindy Has apparently made $15 million by flipping houses with her husband. Who needs a Pepsi contract when there's real estate?
DiCaprio, Leonardo Allegedly got into a fight with Paris Hilton over a Chanel bag that was up for auction. File this under: Only in Cannes.
Distenfeld, Claire The Fivestory boutique owner launches e-commerce. This didn't take an Alaïa-level amount of time, but it's certainly been coming for a while.
Fendi The fashion house released a new book in celebration of Karl Lagerfeld's 50 years at the helm. When he's been there for 100, he gets a TV show.
Fremaux, Thierry The head of the Cannes Film Festival is really sorry about that time that women were told they had to wear heels. Or, at least, he's pretty sorry.
Gas Masks Hit the runway in China. Next season: chemical suits.
Gevinson, Tavi Responds to a diss from the Sartorialist in 2011 with poise, of course. Eat your words, Scott.
Hilfiger, Tommy Plans to show his men's wear collection at both London and New York fashion week this year. Because two shows are better than one.
Jenner, Kylie Is selling her clothes on eBay. Tweens, how about laying off the Kylie lip challenge and trying this one instead?
Kardashian, Kim To present the CFDA Media Award to Instagram founder Kevin Systrom this year. Revealed the news on Instagram. Where else?
McQueen, Alexander May be on the new £20 note. British currency just got a whole lot more valuable.
Nasty Gal Claimed Taylor Swift wore one of its Balmain knock offs to the Billboard Music Awards. Was very, very wrong.
Rocha, Coco Wore two layers of fake eyelashes at once. Like a pro.
Shields, Brooke Has 1,200 Brooke Shields-branded blow dryers in her garage. Should probably ask Cindy Crawford to help her get some more space.
Smith, Jaden Went to prom in an all white outfit. What else would you expect from a teenage pop star.
Target Revealed designer collaboration with jewelry designer Eddie Borgo. Ready, set, shop.
Ziegler, Maddie The Dance Moms star is now a brand ambassador for Capezio. Well, that's a partnernship that took long enough.