Leonardo DiCaprio Joins Quentin Tarantino's Manson Murder Film (But Not as Charles Manson)
The Oscar-winning actor has signed on to join Tarantino's untitled ninth film, about the summer of 1969 and the Manson family murders.
---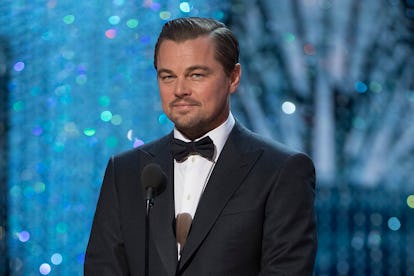 Eddy Chen/Getty Imagese
Quentin Tarantino has made his first official casting choice for his upcoming film about the Manson family murders, with Leonardo DiCaprio in a starring role. After Tarantino reportedly discussed parts with both Brad Pitt and Tom Cruise, DiCaprio is the first to reportedly sign on to the project—but not in the role you might think.
In the upcoming Manson project—which is listed on IMDb as Untitled Quentin Tarantino/1969 Project—DiCaprio, who has previously worked with Tarantino in Django Unchained back in 2012, will apparently play an actor who appears in a movie within the movie. Since winning an Oscar for Best Actor in 2016, DiCaprio has not appeared in any films, so his meta-movie role in Tarantino's fictionalization of the Manson family murders could be the one that nabs him another Oscar nomination after the film premieres in 2019, even if he won't be playing Charles Manson. The Manson movie will be distributed by Sony Pictures (they've secured all global rights to the film).
The film is scheduled to be released exactly 50 years after the murder of actress Sharon Tate, but according to Deadline, the project is reportedly not a Charles Manson or Tate biopic. Rather than focusing explicitly and solely on Manson, it will center around events in Los Angeles that occurred the summer of 1969, which is also when the Manson murders took place. Both Margot Robbie and Jennifer Lawrence have allegedly been approached by Tarantino to play Tate, but so far the only actor to have been cast is DiCaprio.
Of course, the conversation surrounding the film has been notoriously hush-hush, and it has yet to be reported who will play Charles Manson, but the Untitled Quentin Tarantino/1969 Project will be Tarantino's ninth film endeavor (he plans to retire after making 10 films, remember), and the controversial filmmaker is also allegedly working on a final installment of the Kill Bill series as well as conceptualizing a new Star Trek film with J.J. Abrams.
Related: Can Quentin Tarantino Do For Star Trek What He Did for John Travolta's Career?