Leorosa is About More Than Just Selling Cardigans
Designers Julian Taffel and Paolina Leccese want you to feel like part of the family.
Photography by Charlie Gates
---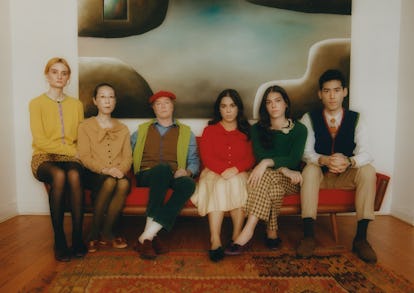 Photographed by Charlie Gates; Styled by Allia Alliata di Montereale.
For the designers Julian Taffel and Paolina Leccese, the duo behind the playful knitwear and accessories brand Leorosa, fashion is about more than just selling clothes. It's about bringing friends, family, and customers into their colorful, eclectic orbit. During a recent trunk show in an art-filled living room on Manhattan's Upper East Side, the overall vibe was more house party than sales floor.
Leccese, wearing a cherry red bow-neck Leorosa cardigan tucked into a black patent-leather miniskirt, adjusted the volume of the Italo disco quietly thrumming in the background while Taffel, in one of their navy gilets, buttoned a 5th Avenue doyenne into a tobacco-colored version of the same style. In one corner of the room, a young man wearing a white women's pullover trimmed in pink and green ate William Poll potato chips next to a sand painting of a cardigan by the artist Cynthia Talmadge. On the coffee table, Leorosa kid gloves with rainbow insets between the fingers and satin round-toed flats with removable velvet bows were arranged on top of stacks of books; rows of postcards featuring Leorosa-inspired doodles by the artists George Condo and Rosemarie Trockel lay in neat piles.
As he packed up a customer's purchase, Taffel pulled out a tote bag featuring the brand's kooky hand-drawn logo. "We tried a lot of Helvetica," he says, referring to the reigning minimalist aesthetic in graphic design. "But nothing felt right." Instead, he and Leccese turned to friends and family: Paolina's father, Pasquale, scribbled the name of the brand (a portmanteau of Taffel and Leccese's middle names) on a napkin, to which the interior designer Adam Charlap Hyman added a Piero Portaluppi–inspired frame. The process reflects the collaborative, artistic heart of their brand.
The pair hopes that their designs, which feature classic shapes with colorful, irreverent details, will look just as original in 50 years as they do now. Their Rosa cardigan, with its slim silhouette and contrasting trim and buttons, may not be your grandmother's go-to, but it might end up being your granddaughter's.
Taffel and Leccese met at Parsons School of Design, in New York, but both pursued careers outside of design (Taffel at Sotheby's and Vanity Fair, Leccese as a stylist's assistant, both of them briefly at the downtown antiques shop Xenomania) before coming together a few years ago to collaborate on their shared vision, even though they were living an ocean away from each other. Leccese, 28, is based between Cologne and Milan, and Taffel, 27, is in New York. As they planned their first collection, they would meet up periodically in Italy, where all of their cardigans are made, to check in on production. Otherwise, they conduct most of their business via WhatsApp.
They launched the brand last fall with a campaign that featured their inner circle mixed in with models and behind-the-scenes fashion types, and with a pop-up in London during Frieze. To commemorate the moment, they commissioned the illustrator Orfeo Tagiuri to design a T-shirt featuring a lion and a rose, a play on the brand name. "His sensibility is very similar to ours," Taffel says. "There's nothing pretentious about it; there's something sort of innocent but really refined."
The pair plan to involve their coterie of interesting characters in everything they do going forward. "For us, it's important to be able to create things with our friends and family. The label is not just ours," says Taffel, who credits both of their pairs of parents (his are Japanese and American, Leccese's German and Italian) for their aesthetic sensibility. Seeing customers wear and appreciate their pieces confirms the value in that approach. "People feel like they're part of the family when they wear it. It's more inclusive than exclusive," Taffel says.
Taffel and Leccese didn't quite realize how big they were getting until a mutual friend approached a man wearing one of their cardigans on the street, assuming he knew the designers. "She was like, 'Oh my god, are you friends with Julian and Paolina?' " Leccese says. "And he was like, 'Who?' " Since then, the cardigans have been worn by Katie Holmes and Gigi Hadid, and can be found at Alex Eagle, in London; Leffot, in New York; and Song, in Vienna, as well as on the Leorosa website.
Even with all the attention, Taffel and Leccese are hesitant to call Leorosa a fashion brand. "We just want to make nice knits and accessories," Taffel says, shrugging. Rather than chasing trends, they aim for longevity. Soon, they plan to look for a brick-and-mortar location, as well as launch a kids' line. "Our clothes already look like children's," Leccese jokes. "We just have to shrink them."