Leslie Jones Is Going to Rio. Snoop Dogg Heads to Martha Stewart's Kitchen.
Comedian and actress Leslie Jones has charted a course for Rio to join the NBC Olympics coverage, while Martha Stewart and Snoop Dogg plan a cooking show collaboration.
---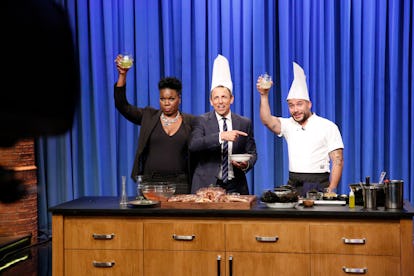 Lloyd Bishop/NBC/NBCU Photo Bank via Getty Images
Ceremony, Opening Nearly two decades after opening up shop, founders Carol Lim and Humberto Leon look back on 1993, a pivotal year for them — and for Calvin Klein.
Dogg, Snoop The rapper will be teaming up with longtime friend and domestic goddess Martha Stewart for a new cooking show, Martha and Snoop's Dinner Party. Cue all the "Gin and Juice" jokes.
Doillon, Lou The new face of J Brand jeans for Fall 2016, because French girls and denim.
Galvan Launching e-commerce, making plans to launch bridal. (It already has, informally — Galvan CEO Katherine Holmgren wore a custom Galvan gown for her own wedding earlier this year.)
Habana, Chris Jewelry designer, Gypsy Sport collaborator, bejeweler of Rihanna on W's September cover.
Jackson, Janet Underrated, even 30 years after her seminal album Control.
Jones, Leslie Going to Rio. And, if you've been following her live-tweets of the Olympics so far, you know there's a reason NBC picked her up for coverage of the games.
Pins, Patches and How the enamel pin craze got so big, it even reached Kim Kardashian.
Uniforms, Olympic A brief history of Team USA's threads leading up to the Rio Olympics.
Watch W's most popular videos here: