Lesley Blume's "Let's Bring Back"
When the sugar and tinsel-laced lead up to January 1st begins to fray even the most soigne host, it may be time for a refresher course on artful entertaining. Lesley Blume's "Let's Bring Back" is...
---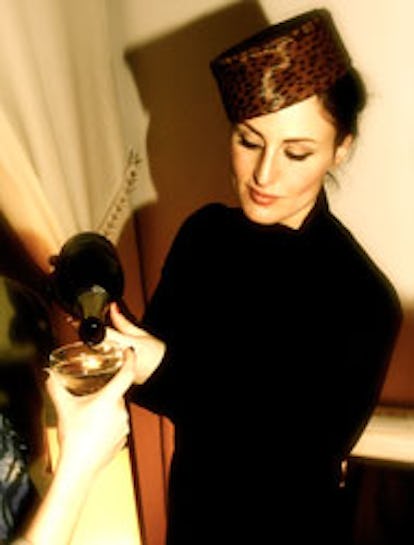 Herewith, a handful of Blume's favorite holiday entertaining tips.
Champagne Glass Towers A round pyramid of stacked Champagne glasses, in which Champagne is poured into the top glass and trickles down to the lower tiers. Popular in the 1920s, such towers are gleaming monuments to decadence. Can you think of a more spectacular way to ring in the New Year?
An important note: You must use the coupe—or round—fingerbowl Champagne glasses, not flutes. Here you can buy the model used at New York City's famous Stork Club:
A sublime way to spend a snowy afternoon. Bundle up, fill your wicker picnic hamper with Champagne (which you can chill just by sticking it in a snowbank), a thermos of soup, and sandwiches. Bring along a cheerful red wool plaid blanket to sit on—and don't forget your dog, who will love rooting around in the snow while you nestle and dine.
Punch Bowls Punch bowls are the Lolitas of serving ware: filled with pink party punch, they look dainty and sweet and innocent but portend all sorts of naughty behavior. They used to be the life of the party and deserve that honor once again. I love this vintage Dorothy Thorpe punch set— which comes with a ladle and matching glasses:
A lovely, optimistic alternative to the typical New Years Eve parties— which are so often well-intentioned but disappointing. Set up a lovely buffet and open your doors at noon. Those who are nursing hangovers can stroll in later in the afternoon.
Personal chef and Daniel Boulud alum Jennifer Lynn Pelka can create the most beautiful and creative New Years Day spread for your guests.
Skating Parties Grab ten of your closest friends, a handful of brightly colored stocking caps, and head to the a pretty frozen lake or outdoor skating rink. These once-popular diversions were often followed by a post-skating party supper as well. The 1966 edition of The New York Times Menu Cook Book recommends this endearing menu:
*Hot Buttered Rum *Old-Fashioned Vegetable Soup *Crusty French Bread *Mixed Green Salad *Cranberry Cheese Cupcakes