LFW Preview: Mary Katrantzou
Describing her own audacious wares as, "Surreal feats of imagination, engineered around the female figure and realized with hyper-real clarity," London-based fashion designer Mary Katrantzou has understandably made a name for herself. Renowned for...
---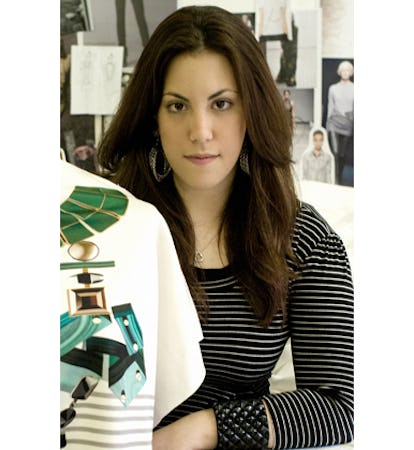 How has your collection for Fall 2011 come along—arduous or coming together easily? "Arduous" would be a good word for it! This is undoubtedly the most sophisticated and complicated collection I've ever designed. I've had this idea in some form or another for a while but this season seemed to be the right time to push myself to develop it. We started researching in October, but Autumn/Winter is always a difficult season because it's so short! This is my favorite point of the design process, when you start to see everything coming together and visualized with the prints.
What inspired your designs this season? Objets d'art, Babe Paley and the creative collaborations of high art and haute couture during the Inter-war period.
Have your designs followed on from your last collection, or will we see something quite different? This collection started off as an evolution from SS11, it journeyed into the rooms I depicted and allowed me to imagine the precious objects people surrounded themselves with in those homes. I started to think about the women that lived there and the way they dressed, and how their clothes related to those interiors. This is much more of a fashion-focused collection than I have ever done before. It's still quite surreal, but there is more of a play with the silhouette and tailoring, combined with overwhelming, outrageous print. We've also really pushed ourselves to offer a full wardrobe for our woman—separates, knitwear, leather, the whole lot.
There seems to be optimism in the air for 2011… I hope so! I think it's important to start the new decade with optimism, I think my prints have always allowed for this.
How would you describe your signature look? Surreal feats of imagination engineered around the female figure and realized with hyper-real clarity.
What distinguishes London Fashion Week from the other fashion weeks? London has been a great platform for me to grow as a designer and build my business. There are so many incredibly talented designers showing here. There's a creative energy and great support system in London that allows you to flourish.