LFW Preview: Roksanda Ilincic
Injecting high-octane glamour into her collections each season, something that many London designers shy away from, Roksanda Ilincic (above) has carved out a niche for luxury eveningwear that, while somewhat conventional, maintains a little London...
---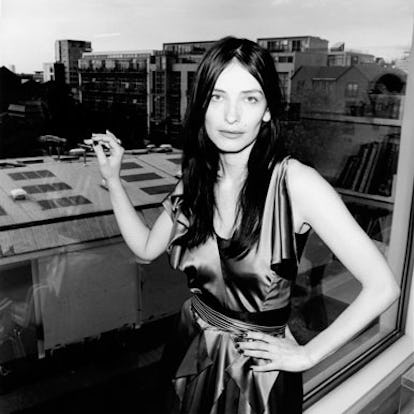 Can you give us any hints about the new collection? For me the designs have certainly evolved from Spring. This season is very much a continuation of what I was exploring in the pre-collection: relaxed luxury dressing in fresh new colors and fabric combinations. Draping as always will play an important role, complemented this season by softly structured tailoring.
What has inspired these new designs? I have been drawn to the fascinating feather markings and colors of birds of prey. The combination of natural, neutral tones against vivid, statement colors—design to be noticed—have provided the perfect reference for my collection. The inspiration takes forms as abstract as a gentle gradation of grays on a day dress and as literal as a feathered, and Swarovski Elements bejeweled coat sleeve.
What distinguishes London Fashion Week from the other fashion weeks? London is home to a confident and adventurous group of designers. What I think sets us apart now from the traditional idea of London being purely creative, is that our businesses are now equally respected for their commercial viability as their creative appeal. In New York I have no doubt that there is an equal depth of talent. New York Fashion Week has perhaps been one step ahead of us in recognizing how crucial that business side of the industry is—we're catching up fast though!
There seems to be optimism in the air for 2011. How will that impact your collection? There is a very positive atmosphere at the moment. For me in particular it has been an uplifting and exciting year so far and I certainly hope that it follows through to the catwalk. So much has happened already and it is only February! I am looking forward to seeing how everyone else is going to be expressing this new mood.